With forceful characterization, dazzling visual choices, and real steel in its spine, there is a lot to like about the newly revitalized team's efforts here. Uneasy allies as some of the "traditional" Squad try to play nice with the vastly more powerful extrahumans who have a mission to fix what Task Force X breaks; there's only one element of this comic that makes it a little hard to swallow. Please be patient, which will be discussed in due time.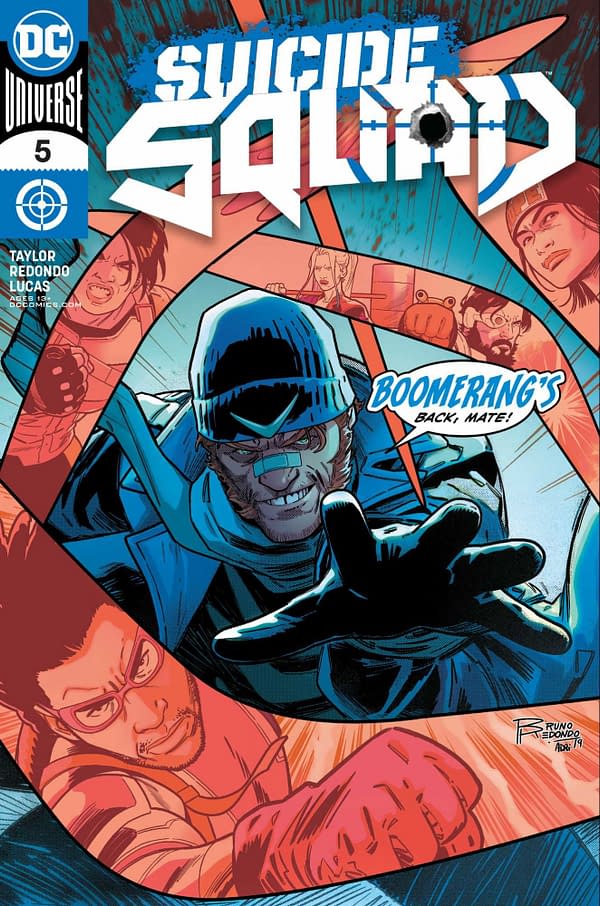 Starting with the visuals from Bruno Redondo, Adriano Lucas, and Wes Abbott, this issue has the vitality of Kevin Maguire's work while adding the intensity of Jock, just without any of the roughness. Lucas' colors, in particular, are immaculate, giving such beautiful contrasts and expression to Redondo's crystal precise line work. Redondo also has a great mastery of the body language of each character — the barely repressed, calculated rage of Osita; the confidence Deadshot has in his aim, the initiative of Jog, and so on. All of that is fantastic to see.
Tom Taylor's scripting is the king of this kind of characterization, giving, in particular, Osita and Deadshot star turns while giving you just enough Harley Quinn that she doesn't take over the whole book. Likewise, this issue is framed by the perspective of Jog, which is a brilliant take on how speedsters work and give some real depth to the character. There's so much to like here that it makes the next paragraph in this review a challenge.
A phone call reveals a surprise that, at best, is hard to grasp. It's like watching Game of Thrones, and the Winter King emerges for the first time played by Don Knotts. Even given the long and admittedly convoluted history of the character in question, this Maxwell Lord-ish turn is hard to reconcile with … well, lots of things that are arguably canonical. That one discordant note is the only thing that throws this symphony of sociopathic behavior off its rhythm.
Everybody here knows how to make a sound, even a great comic book. This time, their efforts fell just shy of excellence. RATING: HONORABLE MENTION.
Suicide Squad #5
They say loose lips sink ships-and Captain Boomerang has the biggest mouth on Earth! That's why Lok commands Task Force X to bring him in and shut him up for good! The hunt is on, but nothing ever goes according to plan in the Suicide Squad-at least, not if Osita and her mutinous Revolutionaries can help it. Will Deathstroke and Harley finally turn against Lok when ordered to kill their old Squad-mate? One way or another, the bodies keep dropping …
Enjoyed this article? Share it!