Terrifics #3 Review: The Body Horror Slingshot
The Terrifics find themselves bound to each other by some kind of Dark Multiverse theory. They cannot be any farther than one mile away from one another, and this leaves them bound to Stagg Enterprises' headquarters. Mister Terrific works to find a way to resolve this manner while Metamorpho has relationship problems with Sapphire and Phantom Girl longs to go back to her home planet. Unfortunately, the Terrifics won't be left to their own devices for long.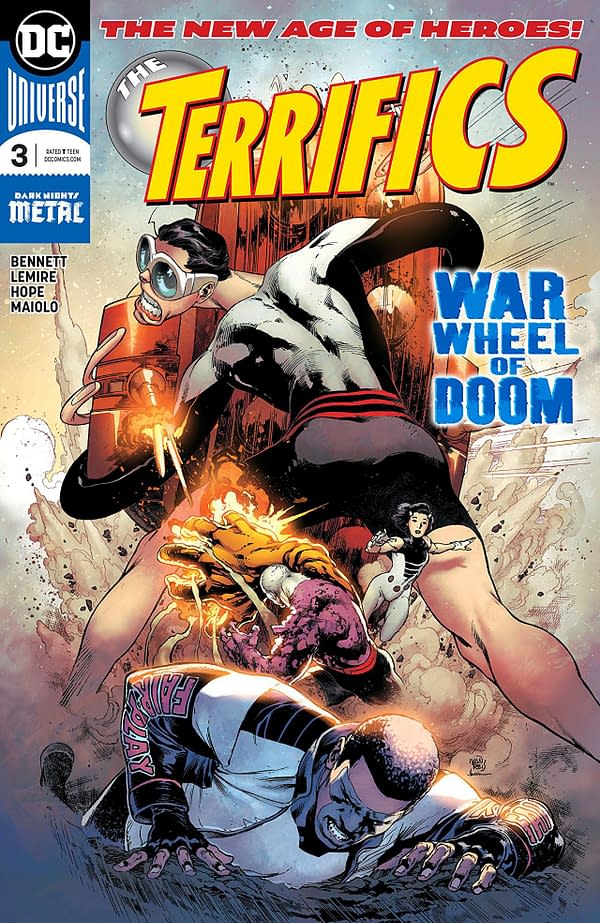 Terrifics continues to prioritize establishing the chemistry and setup of its team, and it continues to succeed for it. Admittedly, the issues are being bent just a little to make the Fantastic Four organization work. Metamorpho is being written to be more of a Ben Grimm-esque bruiser than he has often been in the past. Oddly enough, Mister Terrific is being written as a more temperamental and impatient figure than either he or Reed Richards have been typically.
That said, the team is still really enjoyable, and the group is very compelling. Stagg will likely make for a good antagonist, and he his duplicity has made him enjoyable enough so far.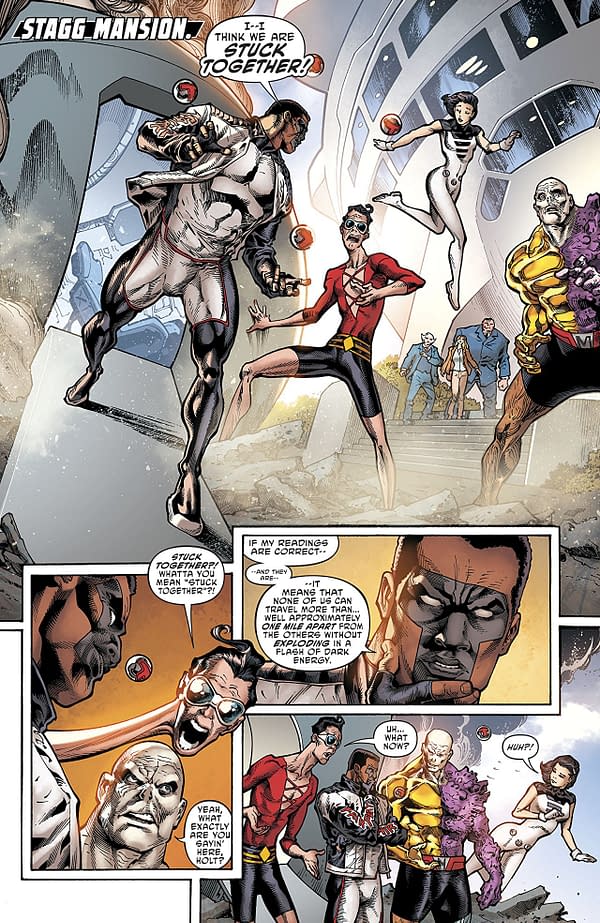 We get to see the team in proper action too, which proves to be quite a site. Joe Bennett's artwork puts the four into great-looking action panels, including a ghastly Plastic Man and Metamorpho-made slingshot which is both cool and oddly haunting. Bennett's work looks great throughout, and Marcelo Maiolo compliments it with a well-balanced and popping color palette which brings the visuals together very well.
Terrifics continues to rise to be among my favorite DC titles with its third issue. The team has great chemistry, Jeff Lemire knows how to best present them, and the artistic team of Joe Bennett, Sandra Hope, Jaime Mendoza, Art Thibert, and Marcelo Maiolo do great visual work on the page. This one gets a recommendation. Give it a read.