The Unpredictable Harley Quinn And Amanda Conner Health Update
Suicide Squad: Most Wanted
By Marilyn Weiss
Harley Quinn fans have a lot of comics to look forward to in the comic months. Panelists Amanda Conner, Jimmy Palmiotti, Chad Hardin, Jim Lee, Phillip Tan and Rob Williams sat down to discuss just what makes our favorite villains so darn likable. Ultimately, it comes down to the unpredictability. Anything can happen to these characters, and it most often does.
Conner and Palimoitti gave the audience a rundown on what we can expect in the upcoming Harley Rebirth series. New readers will be treated to a helpful catch up on Harley's history, told by Harley herself rocking out on center stage. They also teased that this story line would show Harley at her most violent as she tries to defend herself against hordes of disgusting and diseased hot dog enthusiasts.
Harley might be a little bit harder to find in Harley and Her Gang of Harleys. She has been kidnapped by a crazed fan and it's up to the gang to rescue her before it's too late. Conner credited Harley's loyal fans for giving her the inspiration for book. She praised the fans for all of their creative takes on Harley's visual themes, which gave her the idea for the gang.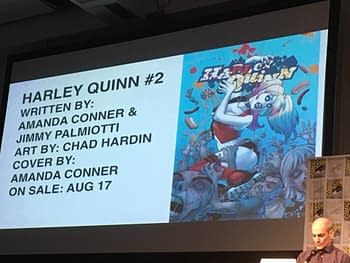 And if you are looking for even more Harley, look no further than Harley's Little Black Book. Issue #6 of the series will feature Harley teaming up with the less than enthusiastic Lobo. Palimoitti assured the audience that the ending of the series would set up some interesting stuff for Harley.
As for Suicide Squad, we can look forward to Rick Flag returning to the DCU. The new book will focus on the tactics of the squad, who often see the end as justification for the ridiculous means. Readers can not only look forward to Killer Croc ralphing in his space suit, but a new addition to the team after a space retrieval mission.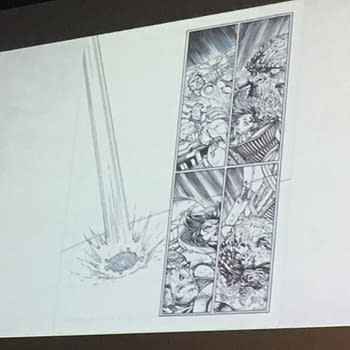 And for those of you who may have been wondering, yes, Amanda Conner is ok. A recent fall on her vacation lead to a hairline fracture on her foot and a shattered elbow. She is on her way to recovery. Don't worry, it's not her drawing hand.
Marilyn Weiss is a contributor for Bleeding Cool and loves her job as a children's librarian. You can find hero on twitter @marilynjweiss