The Surprising Trans-Themed Story in Space Adventures #7 from 1953 Even in an industry that has produced a seemingly endless number of eccentric characters among the ranks of its publishers, Charlton Comics stands out. The Connecticut company was started by two men who had met in jail, after all. Despite that unlikely origin story, the publisher managed to attract an impressive roster of talented staffers and creators throughout its history. Important creators ranging from Steve Ditko, Joe Gill, and Sam Glanzman to Mike Zeck, John Byrne, and Roger Stern made important contributions at Charlton.
Editors including Al Fago, Dick Giordano, and Nicola Cuti oversaw a wide range of memorable titles and characters over the years, including Blue Beetle, Captain Atom, E-Man, Ghost Manor, The Many Ghosts of Doctor Graves, Peter Cannon, Thunderbolt, and a long list of of others. Famously, when most of Charlton's superhero characters were acquired by DC Comics in 1983, they ended up partially inspiring many of the characters in Alan Moore's and Dave Gibbons's Watchmen.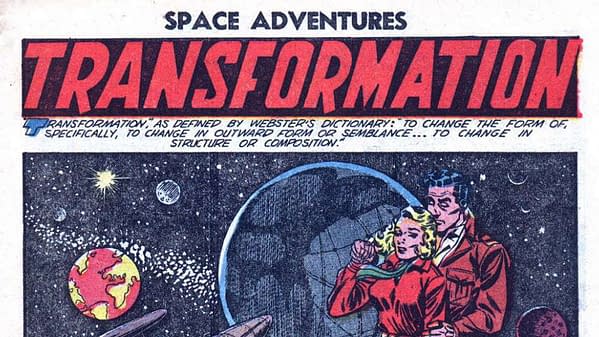 From the unlikeliest of beginnings, the legacy of Charlton Comics lives on in many ways, with characters like The Question and Captain Atom, the aftermath of Watchmen, and even the current Charlton Neo publishing line.
The original Charlton line contains countless lesser-known comics worth revisiting in the decades since they were published. Reviewing Craig Yoe's The Unknown Anti-War Comics recently, I was surprised by a number of memorable tales from the Charlton titles, particularly the Charlton Premiere story Children of Doom by Denny O'Neil and Pat Boyette, which Alan Moore has cited as among the comics that stand out to him from the era.
Browsing through the listings for tonight's Comic Connect session and admiring that impressive run of high-grade Space Adventures issues they have up for auction, I noticed another Charlton comic that's worth a closer look in the context of the present day: Space Adventures #7, cover-dated July 1953.
The blurb on the cover makes the theme of the feature story — written and drawn by Dick Giordano — fairly clear:
In this issue… "Transformation", the Hard-Hitting Story of Scientists' most Recent Revelation
This is a reference to the procedures which were sometimes called "Sex Transformations" during that era. In particular, the likely inspiration for this story is Christine Jorgensen, a former U.S. Army clerk who was the first American to have a sex change operation, and whose story hit the New York Times on December 2, 1952. Jorgensen's experiences subsequently created significant mainstream news coverage of transgender issues in the U.S.
I'm certain that sifting through several news stories from that moment provides a far from complete picture of the tenor of the resulting national conversations, but reading through some of these early 1950s newspaper stories about Jorgensen and others on the subject is still downright startling from the perspective of the current day. The 1950s coverage all seems so very… calm, by comparison. Politics didn't dominate the conversation of the issues during that era. People were curious, experts were found to provide basic explanations. In a few articles, some scientists noted that it would take quite some time for everyone to begin to understand these issues more fully, and that the related mental and physical health care would continue to improve.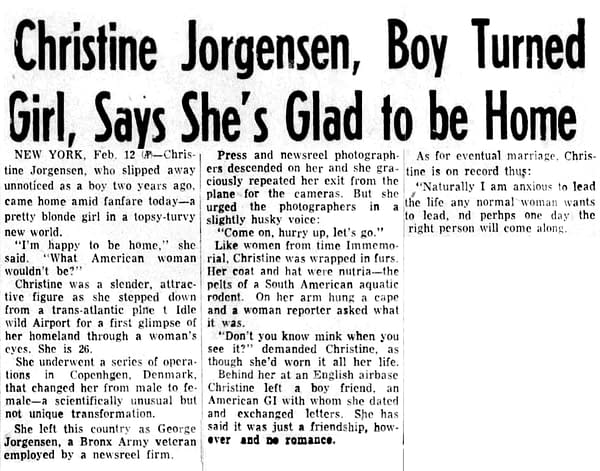 As is reflected in Giordano's Space Adventures story as well, it's probably worth pointing out that the country and the world had very many other issues on our minds in those early Cold War moments. The Soviet Union was developing its atomic bomb program with haste, Mao had established Communist rule in China, and America's national security braintrust determined that the surest way out of this situation was to use its domestic propaganda machinery to traumatize us into believing we might all die in nuclear fire unless we built bigger, better, and more weapons than anyone else did.
In the face of freaking out that the events depicted in the comic book World War III #1 that same year might become real at any moment, the notion that transgender healthcare was becoming a topic of national discussion probably didn't seem like something worth getting mad about.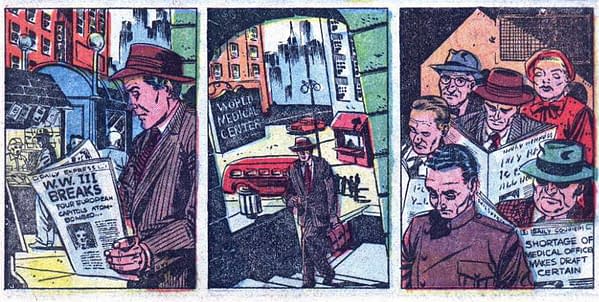 It's hard not to wonder if this is why Space Adventures #7 hasn't drawn much particular notice until recently. The backstory of Giordano's tale is the impending doom of World War III, and a small group of scientists who decide they'd be better off getting away from Earth by taking a space ship to Mars. The transgender themes here form a subtle but complex undercurrent for most of the story. The main character, who is one of the scientists involved, is said to be in a relationship with his (female) assistant. Except that he's so indifferent about her that he hadn't intended to take her to Mars with him until she confronted him about it, having overheard the plan. During the rocket ride to Mars, she attempts to encourage his attention by noting that she'll be the only woman on Mars. But he responds by thinking that this move is rather presumptuous of her.
Ultimately, the group's rocket crash lands on Mars, and it initially appears that the main scientist is the only survivor. He thinks to himself how lonely it will be, and decides to fill the time alone by developing and undergoing sex conversion procedures for himself. The unspoken implication seems to be that he could only finally do this when he was the last person left in the world. When there was no one left to judge him for it.
That's just my interpretation of the story, and there could certainly be others. You can read Space Adventures #7 here and decide for yourself, and see how it all turns out in the end too.
Meanwhile, I'm going to check out this list of Space Adventures issues at Comic Connect again and see what other subjects they might have taken on while trying to write their way towards happily ever after during the Cold War.