Posted in: Comics, Solicits, Valiant | Tagged: andy diggle, archer and armstrong, bloodshot salvation, britannia, christos gage, Daniel Kibblesmith, Harbinger Wars 2, juan jose ryp, july 2018, matt kindt, Ninja-K, ninjak, peter milligan, quantum and woody, Robert Gill, shadowman, Solicits, travis hairsine, valiant entertainment, x-o manowar
---
Search for Rome's Lost Eagles in Valiant Entertainment's July 2018 Solicits
Enter Britannia: Lost Eagles of Rome this July with creators Peter Milligan and Robert Gill. This comes through Valiant Entertainment along with their regular releases such as Ninja-K, X-O Manowar, an Archer and Armstrong collection, Shadowman, and Quantum and Woody. Full solicit details below.
BRITANNIA: LOST EAGLES OF ROME #1 (of 4)
Written by PETER MILLIGAN
Art by ROBERT GILL
Cover A by CARY NORD
Cover B by BRIAN THIES
Variant Cover by DAVID MACK
B&W Sketch Variant by CARY NORD
AN ALL-NEW EPIC BEGINS! Valiant's sold-out descent into the horrors of the ancient world returns with A BLOODSTAINED JUMPING-ON POINT from legendary comics master Peter Milligan (Detective Comics) and Harvey Award-nominated artist Robert Gill (BOOK OF DEATH) as Antonius Axia, history's first detective, launches into an otherworldly mystery of monsters, magic, and conspiracy at the boundaries of human understanding…
The Roman standard – the eagle borne at the front of each Roman legion – was more than just a symbol of the soldiers that carried it… It was a symbol of Rome itself, the ultimate embodiment of the empire's power…
But now, in the mist-shrouded Germanic forest of Tottenwald, the unthinkable has happened: A rampaging barbarian horde has crushed three of Rome's most highly skilled detachments in battle… and captured their mighty Roman eagles.
His authority threatened by this all-too-public shame, the mad emperor Nero has dispatched Antonius Axia, the empire's finest "detectioner" and hero of Britannia, and Achillia, the sword-wielding champion of the gladiatorial arena, to reclaim his stolen relics at any cost.
But what began as a simple mission will soon become a terrifying journey into the dark heart of belief itself as the isolated woodlands of Rome's enemies reveal unseen dimensions…and the true power of the legion's lost eagles threatens to consume any who would pursue them…
$3.99 | 32 pgs. | VALIANT PRESTIGE | T+ | On Sale JULY 25th
HARBINGER WARS 2 #3 (of 4)
Written by MATT KINDT
Art by TOMÁS GIORELLO
Cover A by J.G. JONES
Cover B by MICO SUAYAN
Interlocking Variant by JUAN JOSÉ RYP
HW2 Icon Variant by FELIPE MASSAFERA
All hands on deck!
Divided but not yet conquered, Livewire and the Harbinger Renegades are making their last stand for the fate of their fellow psiots! Targeted by X-O Manowar and the governmental forces of the H.A.R.D. Corps, the most powerful players behind the cataclysmic conflict that has torn America asunder are about to converge in a violent conflict where the ultimate fate of the Valiant Universe will be decided… And Ninjak and Bloodshot are about to get a crucial new role in the heart of it all!
From coast to coast, New York Times best-selling writer Matt Kindt (X-O MANOWAR, DIVINITY) and superstar artist Tomás Giorello (X-O MANOWAR, NINJA-K) are about to unleash a sonic boom of seismic consequences as Valiant's spectacular summer event rages forward!
$3.99 | 32 pgs. | T+ | On Sale JULY 25th
SHADOWMAN (2018) #5
Written by ANDY DIGGLE
Art by DOUG BRAITHWAITE
Cover A by TONCI ZONJIC
Cover B by DAVID MACK
Interlocking Variant by DAVID LAFUENTE
Shadowman Icon Variant by DOUG BRAITHWAITE
"DEAD AND GONE" – PART 2! At last – the untold tale of Marius Boniface…the first Shadowman!
As slave catchers roam the scorched landscape in the closing days of the Civil War, there is little hope and even fewer chances of escape…except in the shadows! Enter: Marius Boniface – first bearer of the Shadowman loa and Jack Boniface's own great-great-great grandfather! But as the sun sets, the Shadowman's coming will lead to more than just a rebellion… Unstuck in time, Jack is about to come face-to-face with the first to bear his curse, and will finally learn the truth about the Shadowman legacy's connection to his family's doomed bloodline!
Superstar artist Doug Braithwaite (X-O MANOWAR, Justice) joins writer extraordinaire Andy Diggle (Green Arrow: Year One) for a must-read moment in the history of Valiant's supernatural icon!
$3.99 | 32 pgs. | T+ | On Sale JULY 18th
QUANTUM AND WOODY! (2017) #8
Written by ELIOT RAHAL
Art by JOE EISMA
Cover A by TOM FOWLER
Cover B (Extreme Ultra-Foil) by GEOFF SHAW
Interlocking Variant by JOE EISMA
Q&W Icon Variant by JEN BARTEL
ALL-NEW ARC! ALL-NEW JUMPING-ON POINT! "SEPARATION ANXIETY" – PART ONE!
Quantum and Woody just barely escaped from a surreal atomic realm…and, unfortunately, they've brought some pieces of it back with them! As dangerous new threats plunge their city even deeper into chaos, they'll soon realize that they have bigger problems and bigger grudges than ever before – now if the brothers are anywhere near one another, their powers stop working!
The world's worst superhero team is going to have to go it alone as "SEPARATION ANXIETY" presents a super-powered stress test, courtesy of rising star Eliot Rahal (The Paybacks) and Eisner Award-nominated artist Joe Eisma (Morning Glories, Archie)!
$3.99 | 32 pgs. | T+ | On Sale JULY 18th
X-O MANOWAR (2017) #17
Written by MATT KINDT
Art by TREVOR HAIRSINE
Cover A by LEWIS LAROSA
Cover B by JIM MAHFOOD
Interlocking Variant by VERONICA FISH
X-O Manowar Icon Variant by BARRY KITSON
Prisoner of war!
Shackled against his will and brought forward into the homeland of his enemies, Aric of
Dacia – the war-hardened Visigoth who will one day become the unstoppable X-O Manowar
– is about to encounter a staggering sight: the city of Rome! Soon, Aric will discover that the
capital of history's most ruthless empire can be far more dangerous than any battlefield…
And even if he survives the hidden horrors of the emperor's dungeon, can he withstand the
all-out brutality of the Coliseum?
"BARBARIANS" continues here as the superstar creative team behind DIVINITY – New York
Times best-selling writer Matt Kindt (HARBINGER WARS 2) and blockbuster artist Trevor
Hairsine (ETERNITY) – present a visionary tour de force of swords and savagery!
$3.99 | 32 pgs. | T+ | On Sale JULY 25th
NINJA-K #9
Written by CHRISTOS GAGE
Art by JUAN JOSÉ RYP
Cover A by CARMEN CARNERO
Cover B by ALAN QUAH
Interlocking Variant by CLAYTON CRAIN
Ninjak Icon Variant by ADAM POLLINA
The super team vs. super team smackdown you've been waiting for!
It all comes down to this! Ninjak – plus his black-ops backup squad of Livewire, Punk Mambo,
Dr. Mirage, and GIN-GR – have been sent into Mexico City to destroy an indestructible target! But their quarry – The Jonin, the Ninja Programme's seemingly ageless former sensei – has assembled his own strike force of improbable powers to meet them head on! Now, the biggest hero-versus-villain showdown of 2018 is about to reach a fever pitch in the stunning finale to "THE COALITION" from renowned writer Christos Gage (Netflix's Daredevil) and incendiary artist Juan José Ryp (BRITANNIA)!
$3.99 | 32 pgs. | T+ | On Sale JULY 18th
BLOODSHOT SALVATION #11
Written by JEFF LEMIRE
Art by DOUG BRAITHWAITE
Cover A by KENNETH ROCAFORT
Cover B by RENATO GUEDES
Bloodshot Icon Variant by WHILCE PORTACIO
Time to kill!
To save his daughter's life, Bloodshot brokered an unthinkable bargain…and has been thrown forward two thousand years in the future to 4002 A.D.! But preserving life requires a sacrifice…and now, he's on the hunt to take out the one man standing between him and the safe return of his family! Too bad the only thing standing in his way is…Bloodshot? When the 41st century's Bloodshot finds out Ray Garrison has come to town, all hell is bound to break loose! Eisner Award winner Jeff Lemire (Black Hammer) and master storyteller Doug Braithwaite (X-O MANOWAR) are about to pull the pin on the next explosive chapter of "THE BOOK OF REVELATIONS" with a centuries-spanning gunfight for the ages!
$3.99 | 32 pgs. | T+ | On Sale JULY 11th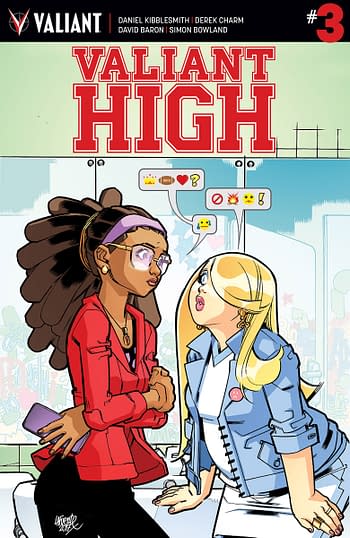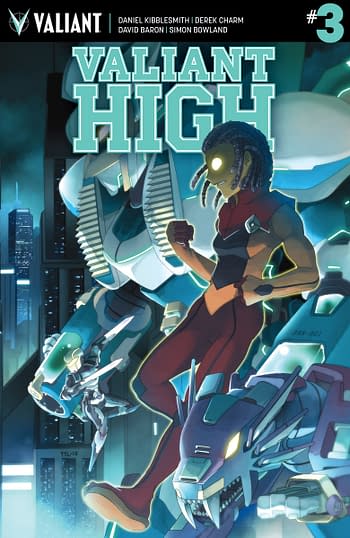 VALIANT HIGH #3 (of 4)
Written by DANIEL KIBBLESMITH
Art by DEREK CHARM
Cover by DAVID LAFUENTE
Variant Cover by IRENE LEE
An all-ages dose of superpowered school spirit!
All schools have their secrets…but at Valiant High, the truth is ETERNAL! Enigmatic foreign exchange student Colin "Ninjak" King and his new bestie, wallflower Peter Stanchek, have made it their mission to find out what's really going on behind the scenes at their superpowered prep school…and the fallout is going to take EVERYONE – from Coach Bloodshot to Principal Harada – by surprise! Red-hot writer Daniel Kibblesmith (The Late Show with Stephen Colbert) and Eisner Award winner Derek Charm (Jughead) present the Valiant Universe like you've never seen it before with another all-ages chapter set outside of Valiant's standard continuity!
$3.99 | 32 pgs. | All-Ages | On Sale JULY 4th
SHADOWMAN VOL. 1: FEAR OF THE DARK TPB
Written by ANDY DIGGLE
Art by STEPHEN SEGOVIA
Cover by TONCI ZONJIC
DON'T FEAR YOUR DEMONS… FIGHT THEM!
Orphaned as a child and raised on the margins of society, Jack Boniface never knew his place in the world. Until he discovered it waiting for him… in a darkness far older than the reign of men…
Unbeknownst to him, Jack was fated to become the next in a long lineage of Shadowmen – mortals bound to loas, violent voodoo spirits of immense power – that could safeguard our world against incursions from realms beyond.
For years, Jack struggled to control his loa's murderous urges – a battle he eventually lost.
But now, after years of self-imposed exile, the man once known as Shadowman is returning home to sharpen the weapon within…and unleash a reckoning on the evils of our world that will soon send shockwaves through heaven and hell alike…
Shadowman storms his way to the forefront of the Valiant Universe – more powerful, more terrifying, and more relentless than ever before – in an adrenaline-fueled ongoing series from superstar writer Andy Diggle (Green Arrow: Year One, The Losers) and high-octane artist Stephen Segovia (Action Comics)!
Collecting SHADOWMAN (2018) #1–3.
$9.99 | 112 pgs. | T+ | On Sale JULY 18th
TRADE PAPERBACK | ISBN: 978-1-68215-239-3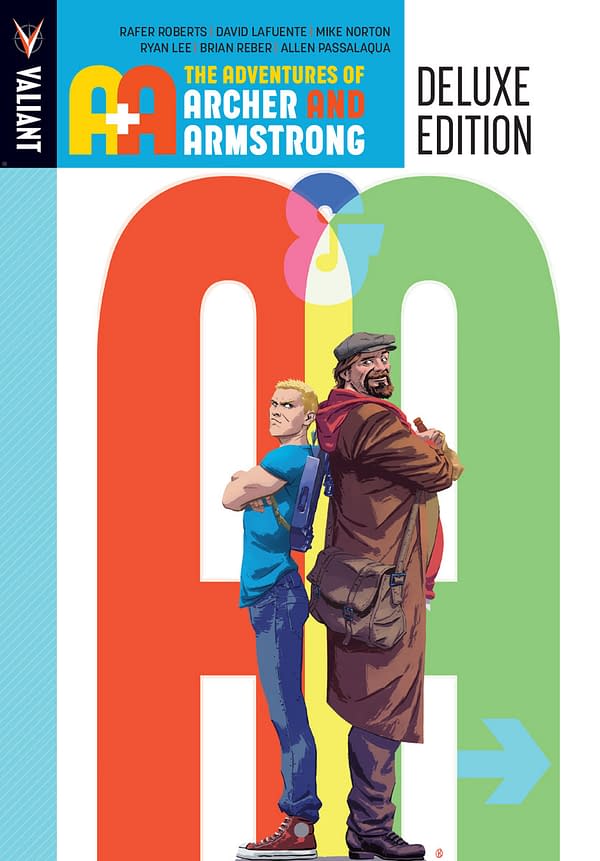 A&A: THE ADVENTURES OF ARCHER & ARMSTRONG DELUXE EDITION HC
Written by RAFER ROBERTS with FRED VAN LENTE
Art by DAVID LAFUENTE, MIKE NORTON, RYAN LEE, CARY NORD, and CAFU
Cover by KANO
Join Harvey Award-nominated writer Rafer Roberts (HARBINGER RENEGADE) and superstar artists David Lafuente (Ultimate Spider-Man) and Mike Norton (Revival) as they take Valiant's (somewhat) dynamic duo on an all-out assault on the senses right here in the complete deluxe edition hardcover of the series The A.V. Club calls "some of the most bold, original work in all of superhero comics right now…"
Meet Armstrong: Since the ancient city of Ur, this immortal adventurer has spent the last 7,000 years drinking and carousing his way through history alongside some of the greatest merrymakers the world has ever known.
Meet Archer: A sheltered teenage martial arts master and expert marksman that was raised for a single purpose – to kill the devil incarnate. Little did he know that this undying evil was actually Armstrong (he's actually a pretty good guy… once you get to know him) and, since hitting the road together, the two have become great friends and even better partners.
Now: Archer is about to set off on his most dangerous mission yet – a quest into the mystic reaches of Armstrong's bottomless satchel to liberate his friend and comrade from the clutches of the mad god Bacchus!
Collecting A&A: THE ADVENTURES OF ARCHER & ARMSTRONG #1-12, IMMORTAL BROTHERS: TALE OF THE GREEN KNIGHT #1, and ARMSTRONG AND THE VAULT OF SPIRITS #1 along with more than 20 pages of rarely seen art and extras!
$49.99 | 368 pgs. | T+ | On Sale JULY 11th
OVERSIZED HARDCOVER | ISBN: 978-1-68215-275-1
---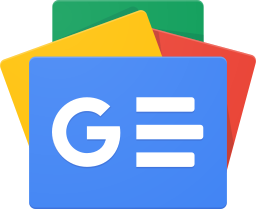 Stay up-to-date and support the site by following Bleeding Cool on Google News today!