When Ghost Fleet And The Marketplace Collided – Talking With Donny Cates And Daniel Warren Johnson
This interview has actually been in the works since late February, when it was announced that Ghost Fleet, the Dark Horse series by Donny Cates (writer), Daniel Warren Johnson (artist), Lauren Affe (colorist), along with Sundowners and Resurrectionists, was going to digital only until trade, and compressing its storyline. All three titles were books I was very fond of, books that showed great creative concepts and promise, both in writing and in artwork, so I reached out to Cates and Johnson to talk more about what they had learned from the project. We didn't manage to do the interview right away because they were in the midst of splicing Issues 8, 9, 10, 11, and 12 (already written) into Issues 7 and 8 to give readers as strong an ending to the series as possible, and they certainly accomplished that. Not only that, but many of their readers followed them into the digital-only format for 7 and 8 and the series was reviewed very highly. It has recently been released as the trade collection Ghost Fleet Vol. 1: Deadhead. What happened to Ghost Fleet is nothing new and reflects the realities of the comic book marketplace. If anything, we should indeed thank Dark Horse for finding ways to keep from simply cancelling the series. It does boggle my mind a little that Ghost Fleet didn't manage to find an audience wide enough to support it financially, but the same goes for Resurrectionists and Sundowners, which were strong books. I think it speaks to an increased competition among creator-owned series, even when they have compelling stories and visually arresting artwork. The proliferation of great books may have outstripped the slightly slower growth in comics readers, though that is a growth I believe is happening steadily over time as we increase the demographic of readers, particularly.
Talking to Cates and Daniel Warren Johnson has been very enlightening, and hearing their perspective may give us greater sympathy for creators working under unusual circumstances like this, as well as help support creators who may have been through similar experiences, or may yet in the course of their careers. Hannah Means-Shannon: How does Ghost Fleet stand out from your other work, in your mind? Did you take greater risks with this story in terms of reaching readers?
Donny Cates: I think Ghost Fleet in some ways was the most personal work I've ever done. Up to this point I had always worked with a partner and I suddenly found myself alone on this one. Long walks and runs and long, long sleepless nights joined together to bring this book to life. The book began as this weird grindhouse action blockbuster, but as it continued on, and being able to look back on it with some distance, the book became this very emotional story about moving on, about letting go, about forgiveness. In those ways it's my heart on the pages. It's me exorcising some of my own demons.

HMS: What was your favorite "scene" from the comic so far? What does it say about comics for you?
DC: I think mine and a lot people's favorite scene was the end of issue seven when things go bananas and the payload is revealed. This issue in general holds a very special place in my heart. As people probably know, Ghost Fleet was supposed to be a twelve issue series, but due to sales it was cut down to eight. What folks probably don't know is that when I got that news I was writing issue 12! So I asked my editor if I could go back in and rewrite issues seven and eight (and slightly tweak issue 6, which was already mostly inked by Daniel!) so that we could give the people a good ending that they deserved. We ended up having about a week or so for me to completely rewrite the book. So Issue seven is the culmination of a WHIRLWIND of creating and improvising and plotting between myself, Daniel and my amazing editor Patrick Thorpe. We just decided that if the series HAD to end on issue eight, it was going to end our way, on our terms. And it was going to go out in a literal blaze of glory. Issue seven is hands down Daniel's crowning achievement on this series. I'm incredibly proud of it.
HMS: You must have been relieved that the issues continued to be released digitally, as well as collected in print trade. But at the same time, it's not quite what you originally wanted and planned. Did it take a while to accept the situation?
DC: It was rough at first. Sure. But ultimately I just want to tell good stories regardless of the format. It's easy to take this job for granted sometimes. I started working on Ghost Fleet way back in 2007, and if you told me then that the book would get eight issues at Dark Horse followed by two trades I would be over the moon. Getting a book cut short is, of course, a blow, but at the end of the day I got to tell the story I wanted to tell, with a group of incredible artists and an amazing support team of editors. I learned a lot telling this story, and I feel like I'm a better writer for it. Dark Horse is incredibly supportive of my creator owned books (The Paybacks is on sale September 16th!) and of storytelling in general. They let me finish my story, and I'll always be grateful for the experience.
HMS: What advice would you give to creators who hit bumps on creator-owned projects?
DC: Ever onward. Keep telling stories. Keep thinking, keep creating. Have fun!! Shit happens, and trying to control it is just silly. It'll end up killing you if you let it. Sometimes the wind will be at your back and sometimes it'll knock you down. You just have to keep going no matter what. The only way you lose this game is if you quit. That sounds like a bunch of bumper stickers strung together, but it's true. I could beat myself up all day over this book or that scene or this piece of dialogue, but it won't make any of it better. You learn as you go. And sometimes you crush it and sometimes you fail in front of everyone. The goal is to make the next book better, and the one after that better still. No one is born knowing how to play this game. Pick yourself up, and get back to work. HMS: Now, Daniel, you have a background in doing your own webcomic, as well as illustration and storyboard work. Can you tell us a little about your other projects?
Daniel Warren Johnson: As far as other projects go, I have a few things up in the air. I have some cool possible projects in comics that are looking very promising for later this year. I'm also working closely with Andrew Groen, who is writing the history of EVE Online, which he ran a successful Kickstarter for. I've been helping him illustrate some major battles that have happened in the EVE history, and it's hecka fun. It's a nice break from sequential work and a welcome challenge! As much as I love sitting home drawing, one of the most enjoyable parts of the illustrative process is to get a clear idea of what my collaborator has in mind, and try and translate that to a 2D space.
I also have a creator owned project (other than Space-Mullet) that I'm shopping around to any publisher that's interested, however, if it doesn't work out with a publisher, I'm happy to put it online somehow. We'll see what happens with that.
HMS: What hooked you about Ghost Fleet and made you want to work on it initially?
DWJ: Well, I have a great affinity for 80's and 90's pop culture, and crazy action movies definitely fall into that category. That's how Donny pitched me the idea, and I loved it as soon as he started talking to me about it. I'm not a very subtle artist (or writer). When someone is sad, I draw them REALLY sad, and when violence happens, I go WAY overboard, which is something I see in a lot 90's movies, for better or for worse. So I appreciate the very direct approach to storytelling Donny and I have with Ghost Fleet. Not too much explaining, just BAM, it is what it is. Not for everybody, for sure, but dang if it's not fun to draw. HMS: The series is known for its action scenes particularly. When dealing with huge hunks of metal and massive guns, that can take some serious detail and planning. What was your most challenging action scene?
DWJ: It's been pretty funny to get a script from Donny with written apologies for the crazy hard things he's asked me to draw. I truly do enjoy a challenge, and I try to approach each scene in a comic with excitement rather than frustration before I even begin. That being said, illustrating a car carrier that's full of cars (on fire) was very, very difficult. Easily the hardest thing I've ever drawn so far, but I'm sure there's something even harder out there…
HMS: Did working on a story that not only included diverse characters but also supernatural elements give you room for experiment and growth artistically?
DWJ: I think that if a comic artist works on any story that's not their own, they will always be challenged and grow, no matter what. When I work on Space-Mullet, I know what's in my head, and I subconsciously know what will be less challenging for me to create, so I have a tendency to go easy on myself. When I work with a writer, I have to meet him in his brain and create those images that he thinks up, which pushes me way harder. I remember some specific challenges were figuring out how to draw Ward's hair, experimenting with dream sequences, and drawing parking lots. They may seem like little things, but I learned a lot from them. HMS: Can you tell us a little about your ordinary process when composing a comics page, and what sort of media you use to illustrate, whether digital or by hand?
DWJ: For sure. When it comes to comics, I always work traditionally, pen and ink. I usually print out the script and take it with me somewhere like a coffee shop, and read it once through as if I was a casual reader, and then a second time to start forming scenes, and it's not usually until the third or fourth time through that I start my thumbnails. I also sketch interior layouts for different scenes, like a boat deck or a street corner. After those have been approved, I move to pencils, and do all of those first (usually two penciled pages in a day), and then go to inks, two pages a day, usually with a brush or brush pens. It depends on the day, though. I remember I drew an explosion with a stick I found on the ground once. Just kind of depends on my mood.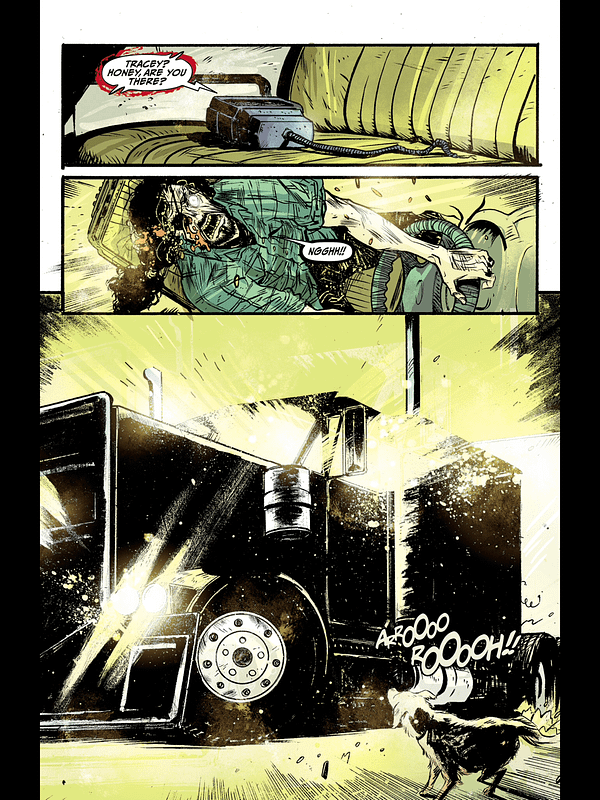 HMS: How do you feel about the fact that the series went to digital and concluded with Issue 8, and then to an original graphic novel collection? I know you've worked on webcomics, but this is a little more challenging for fans.
DWJ: I won't lie, I was disappointed. Donny and I worked so hard on Ghost Fleet, we wanted to see all the issues come out in comic stores. But, I also realize that Dark Horse is a business, and they have a bottom line, and Ghost Fleet just wasn't selling well enough, so I understand why, I really do. I keep having to remind myself that I work in the entertainment business, and things come and go very fast. It's just the way it works, which is ok. Even though I'm sad, I'm very, VERY glad people have had some way to read the rest of Ghost Fleet and finish the story, even though it hasn't been ideal. I'm also very happy about it going to TPB still. Issue 7 is the best issue I've ever drawn as of yet, so I really want as many people to read it as possible. Honestly, I'm just thankful that it was in stores as long as it was. Sometimes I forget how much of a privilege it is to have artwork on a comic shelf. I don't want to take it for granted. I'm super grateful to Dark Horse and Donny for the chance to draw this awesome story. HMS: What have you taken away from working on Ghost Fleet? Has it influenced your future direction as a comics creator?
DWJ: Ghost Fleet has taught me a lot. I learned how to work well with a writer and an editor, I learned how to keep my deadlines, how to handle disappointment like a champ (or try to), how to draw big rig trucks, how to draw suits, control rooms, and more. One of the biggest things it's done for me is remind me to have FUN when I draw comics. Sometimes I take it too seriously, and I shouldn't. Stories will be told, plot holes will happen, an arm will be drawn too short or a hand too big, and it's all good.
The Ghost Fleet TPB can be found here from Dark Horse, and you should really keep your eye on Donny Cates and Daniel Warren Johnson in their developing projects…
This week on June 17th, the prelude to Donny Cates, Eliot Rahal, and Geoff Shaw's The Paybacks will appear in Dark Horse Presents #11.