Joyce Chin does a lot of covers for Dynamite including some for their big all-female written and lead summer event, Swords of Sorrow. Joyce shows the pencils and inks for a cover she was working on only to find out that she was told to put the wrong character on the cover… here are the images and story as she posted it on her Facebook page. This is the cover for Swords of Sorrow: Black Sparrow & Lady Zorro Special by Erica Schultz and Cristhian "Crizam" Zamora.
A progression trio… I was contacted by editor via email to do a Lady Rawhide Black Sparrow cover. So I sent in these pencils for approval.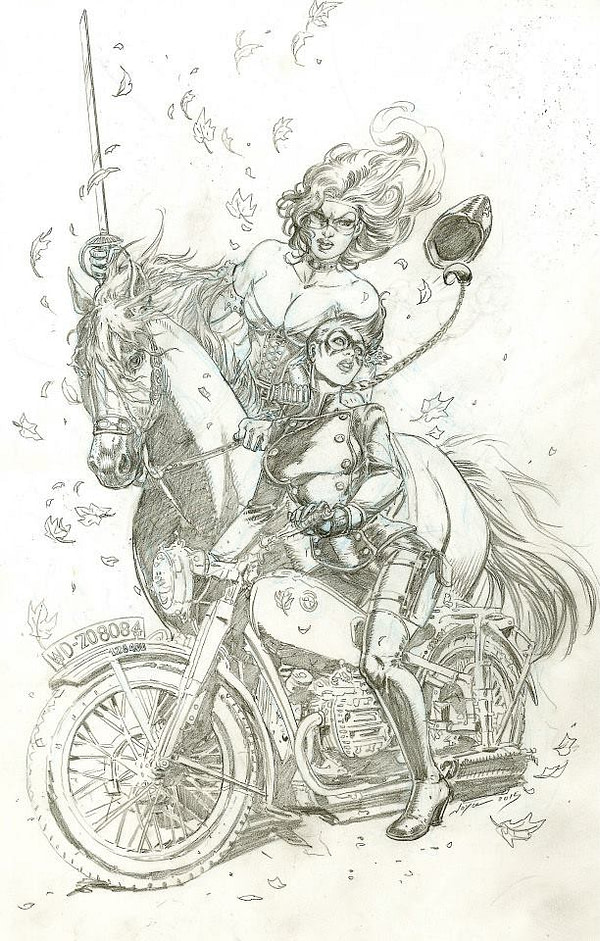 Which got OK'd so I went ahead and inked the art, changing some of the size relation and positioning for Lady Rawhide. And I sent it in thinking all was done. And for the first time ever, editorial got back to me and said they'd made a mistake and there was a character mixup on their end! I was supposed to have drawn Lady Zorro and *not* Lady Rawhide. LUCKILY, it wasn't as drastic of a change as it would have been from Lady Rawhide to Zorro. It all ended up okay in the end. For more on the Swords of Sorrow: Black Sparrow & Lady Zorro Special, click here.