Writer's Commentary – Gail Simone on Red Sonja / Tarzan #1
Dynamite has sent us a new writer's commentary by Gail Simone for the highly anticipated Red Sonja / Tarzan #1. Simone is bringing together the worlds of Edgar Rice Burroughs and Robert E. Howard and teaming with her long-time Red Sonja series collaborator Walter Geovani to do it. The issue has multiple covers including the two below by Adam Hughes and Jae Lee.
Here's the thing. Once in a while, you get offered a dream project that you didn't even consider a real possibility in the real world. It's happened a few times with me, and it's that moment when someone calls you and offers you a gig you literally cannot turn down. It's just too much in your fan DNA.
The first time was writing my favorite team (the JLA), with my favorite artist (Jose Luis Garcia Lopez). Then Wonder Woman with Terry Dodson, who weirdly lives just a mile or so away from me in my little town in the boonies.
This book was like that. The first pulp novel I ever read, as just a little girl on a farm, was Tarzan, and I was instantly hooked, hooked forever as it turns out. I became a huge Edgar Rice Burroughs fan and that has never gone away. So I always wanted to write Tarzan, but I wanted it to be EPIC.
Red Sonja, well, she's just simply one of my favorite characters in the world. I had to be talked into writing her, I agreed to write six issues. That became twelve, then eighteen, then two more mini-series, and several one shots. I just kept wanting to keep going, to write more Sonja. She's just that dear to my heart.
So this was both of them. And Walter Geovani jumped on board for the same reasons I did: Red Sonja. And Tarzan.
Because sometimes you get that dream thing.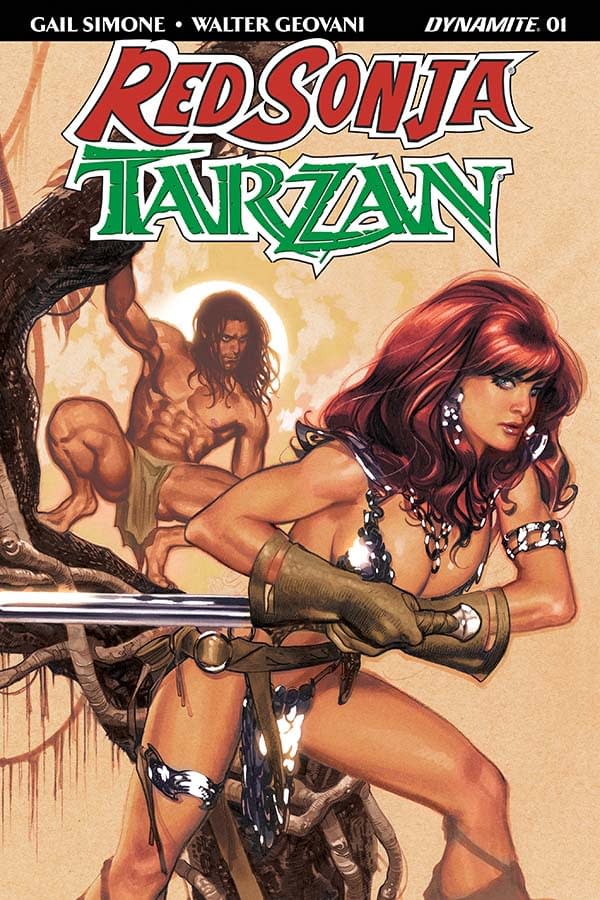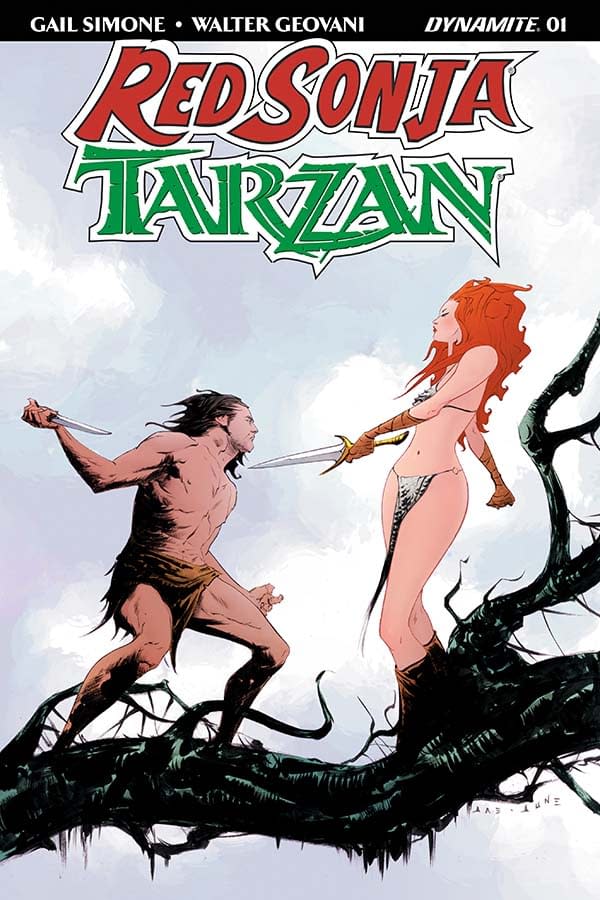 PAGE ONE: I wanted a memorable villain. Both ERB and REH wrote villains you could truly loathe, and both had different approaches. My feeling about it was that ERB was happy mostly being a fantasist who dabbled in historical drama, while REH was kind of the opposite, he preferred writing history, but fantasy was what made his career. So I wanted to have a villain that was half of each in style. Eson Duul is meant to be such an UNBELIEVABLE ****head that he's easy to loathe.
But he also is fierce enough to be able to go toe-to-toe with Tarzan and Sonja, which is a bit of a rarity in either's history.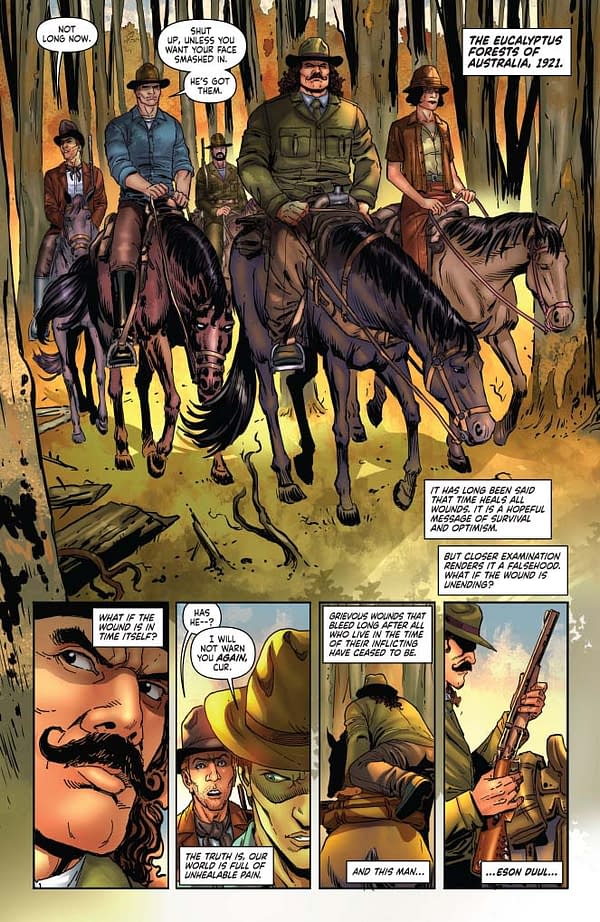 PAGE THREE: The Thylacine was a real creature, native to Australia, that went extinct. There are tragic photos of the last remaining specimens in a crappy zoo. I live in the boonies, most of my family hunts, but they eat what they hunt. Eson Duul represents the other side of that coin, the trophy hunter. ERB in particular wrote about this type of person, and it seemed fitting to bring someone like this into our story. Eson is a scortch-the-Earth kind of guy.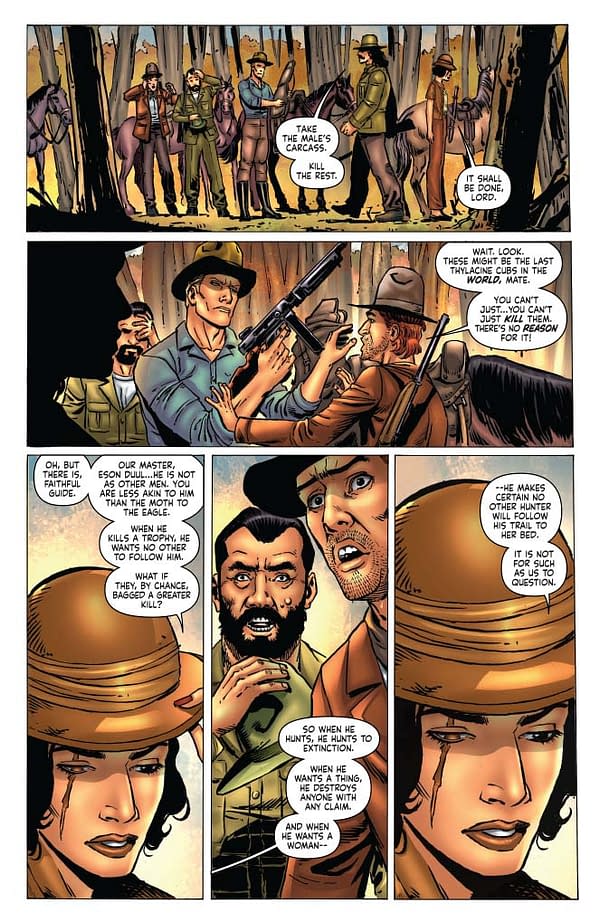 PAGE SEVEN: I don't normally do a lot of omniscient captions, but part of the fun of doing a fantasy book, a pulp story, is including that kind of narrator. I love it. Also, Sonja walking the desert carrying her saddle, that feels very iconic to me, and hints of trouble to come.
My Sonja in her ongoing series had a bit of a sharp tongue. This story called for a more serious Sonja, due to the stakes involved.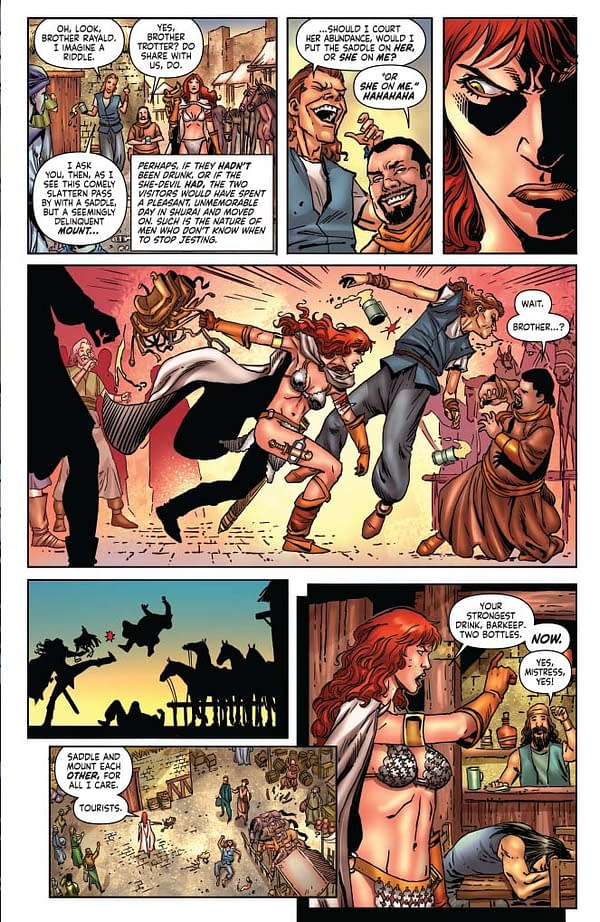 PAGE EIGHT: Gorgeous splash by Walter Geovani. I love this guy. It's always a bit hard for me to write Sonja when he isn't drawing her, because I love his version so much. Look at this page, look at the stories going on everywhere! And for once, SONJA is grim while everyone else laughs.
PAGE TEN: The 'Witch' she's referring to is a character I created for the Swords of Sorrow crossover event. She can travel dimensions and, to a lesser degree, time. It would have been possible to put Tarzan in a jungle in Sonja's world, or update Sonja and displace her in time, make her a swordfighter from Eastern Europe or something, then we wouldn't have to do time/dimensions shenanigans. But instinctively, that didn't feel right. I don't think we would care as much if they weren't somehow the characters we love in the worlds we recognize them from.
PAGE ELEVEN: In the Burroughs books, there is a lot of skepticism about Tarzan's life, and at this time in history, there had been a number of famous 'feral
children' found in the wild. Some were hoaxes, some were basically just abuse of indigenous children, and a couple were more actually reflective of Tarzan's story in some manner. So the scorn here is pretty real, people had been fooled in the past.
Also, here we see Captain D'arnot, one of the forgotten characters in the original novel. I quite liked him, but the films tend to leave him out entirely, in favor of Jane and her group meeting Tarzan first.
PAGE TWELVE: LOVE this page. I asked Walter to SHOW Lord Greystoke, but we have to FEEL that it's Tarzan. So it's a bit of a risk to have our first image of him be in 'civilized' clothes, but Walter leaves no room for doubt. This is TARZAN.
PAGE FOURTEEN: Tarzan wouldn't be all that happy about modern zoos, even with the good work many of them do. He DEFINITELY wouldn't like seeing these animals in tiny, filthy cages in a bastard's backyard.
PAGE SIXTEEN: My take on Tarzan is that he can wear the skin of English nobility, but inside, he's still from a tribe of great apes. And you piss him off at your peril.
Regarding Tarzan's barrister, we again see the theme of family, that will be the biggest thematic element in the book. All early jungle adventure stories in the pulps tended to be full of tribal stereotypes, they kind of fed off each other. But Tarzan's Waziri tribe family functioned at a better level, in general, and are an essential part of his myth. Again, this gets left out of a lot of interpretations of the character.
PAGE EIGHTEEN: Here is the Traveler, and she senses both Sonja's distress, and the danger to the world that Eson poses.
PAGE NINETEEN: This is more like the Sonja from my monthly run, she's a wild child, she's a carouser, who does what she pleases. But the Sonja in this story pays a heavy price for only thinking of herself and what she can drink in an evening. So again, it's a more serious Sonja in the rest of the series.
PAGE TWENTY-ONE: There's a very important clue as to what happens in the rest of the series on this page.
PAGE TWENTY-TWO: This scene with the umbrella stand was genuinely upsetting to me to write. I had plotted it out weeks previously, and put off writing it until the very last moment. Big game trophy hunters…they're 100% rotten people, that's pretty much a guarantee.
PAGE TWENTY-THREE: There's a thing I call the 'Batmobile Moment.' Nearly every pro writer who gets the chance experiences it, it's that first time you write the word 'batmobile' in a script and you realize, holy crap, I'm writing Batman (or whomever). For me, this is such a moment. Writing Tarzan, screaming 'Kreegah Bundolo!' I mean, that's what I write comics for. You can take an assignment for the paycheck, you can turn in a script to make a deadline, whatever, I'm not judging you. But I'M in comics to write characters I love.
PAGE TWENTY-FOUR: Tarzan doesn't have a lot of time travel stories that I am aware of, but Red Sonja does. So it seemed appropriate to bring HER to HIM, rather than the reverse. But this is just the START of where, and when they go!
I hope you enjoyed this, we are having a blast, it's two characters I love and all the fun settings we can fit. In the upcoming issues, if you are an ERB or REH fan, we have Easter Egg treats for you. If you are just a fan of the characters, we have them being just as badass as you could possibly hope for, and a LOT of surprise appearances.
Come be savage with us!