 11 but studios recently released This War of Mine and its narrative-oriented spin-off This War of Mine: Stories on mobile, and at GDC, the developer revealed that rpg Moonlighter would also make the jump to iOS and Android.
Unlike many mobile ports, Moonlighter will not use the virtual joysticks that have become popular, but will instead rely more on swipe controls. The mobile game will have the full story campaign and DLC, but with a simplified combat system that uses auto-attacks and swipes to dodge. Because of that change, Moonlighter Mobile will be more like the Final Fantasy XV: Pocket Edition.
The game's official description reads:
Moonlighter is an action RPG with rogue-lite elements, that demonstrates two sides of the coin – revealing the everyday routines of Will, an adventurous shopkeeper that dreams of becoming a hero.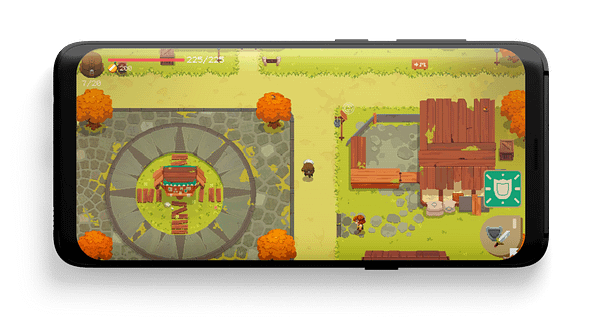 Moonlighter Mobile's features include:
Shopkeeping – Swipe and poke the screen to conduct your business in Rynoka village. Put items on sale, set their price carefully, manage gold reserves, recruit assistants and upgrade the shop. Be careful though – some shady individuals may want to steal your precious wares!
Meet with Villagers – Stare at the screen to get to know your neighbors as you restore the prosperity of this small commercial hamlet. Help establish new businesses and watch them grow in the idyllic community of Rynoka.
Craft and Enchant – Think while glancing at the screen to understand the crafting and enchanting system as it's essential for your progression. Craft new armor and weapons, and enchant existing equipment!
Fight with Style – Furiously tap the screen to defeat enemies and bosses, and revel in challenging and deep combat mechanics. Masterful control of your weapons, critical timing, careful positioning, and an understanding of your enemies and environment are crucial to your survival. How you battle your enemies is up to you.
Get the Loot – Gently touch the screen to access strange worlds through otherworldly gates and collect valuable items from exotic civilizations: resources, weapons, armors and peculiar artifacts. Hoarding everything won't be possible – use the unique inventory system wisely to take the most profitable loot with you.
Moonlighter will come to mobile sometime this summer. Further details will be announced at a later date, closer to launch.
Enjoyed this article? Share it!