Acquisitions Incorporated Comes to Neverwinter in a New Adventure
Neverwinter is about to get a little more on-brand as the crew of Acquisitions Incorporated will be the highlight of the next adventure. "The Heart of Fire" is a brand-new module coming on November 6th in which you'll be interacting with members like Jerry Holkins as Omin Dran, Mike Krahulik as Jim Darkmagic, and Amy Falcone as Walnut Dankgrass. Check out the details below along with the awesome teaser trailer as we impatiently wait for this to come out in two months!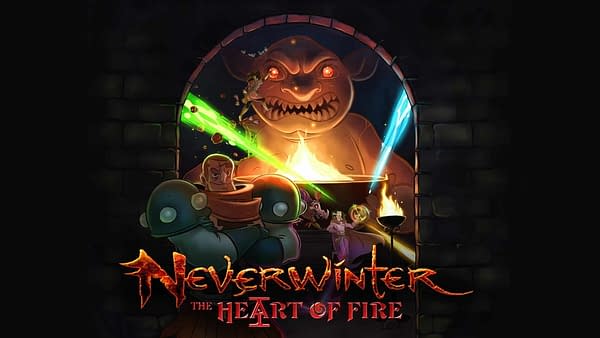 "We've looked for opportunities to work with the talented folks behind Acquisitions Incorporated for a long while now and the stars have finally aligned," said Gordon Fong, executive producer on Neverwinter. "Many members of the team are huge fans of the world Mike and Jerry have created, so bringing their stories into the game was both an honor and a pleasure. Both fans of Neverwinter and those new to the game have a lot to look forward to in this module. From a witty writing style that's unlike previous tales we've told, to the exciting antics that await freshly minted Acq. Inc. employees, we know there's something in The Heart of Fire for every D&D fan."

A job faire goes horribly awry in the Blacklake District when Walnut Dankgrass (Amy Falcone) asks adventurers to eliminate the competition who are potentially luring eager prospects away. Aiding the Druid leads to even greater opportunity: an intern trial at the newly-constructed Acq. Inc. headquarters in the heart of Protector's Enclave. One exhilarating orientation later, adventurers are set loose on the Sword Coast with a mission from Omin Dran (Jerry Holkins) himself, "Find some giant red rubies!" With the occasional "assistance" from Jim Darkmagic (Mike Krahulik), players begin an expedition throughout the Sword Coast that grows more ridiculous with every request: infiltrate a Beholder convention, battle sky pirates in the Acquisitions Inc. airship and rescue royalty culminating in a marvelous new Skirmish. Additionally, the Professions system is receiving an overhaul which will allow players to own and manage their personalized workshop in Protector's Enclave.