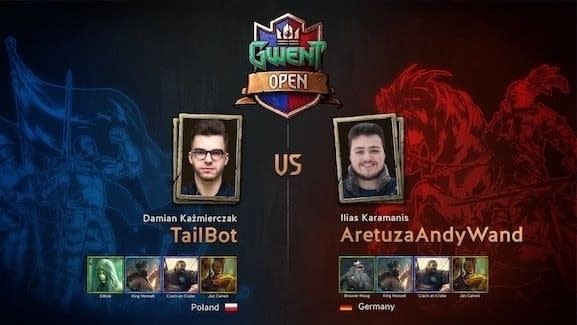 CD Projekt Red hosted a Gwent tournament this past weekend as part of the Masters series, and after some tough competition, the publisher has crowned Ilias "AretuzaAndyWand" Karamanis as the winner of the May 2018 Open. And no, this was no the tourney held in a salt mine, sad to say. Not every tournament can have so epic a venue, after all.
The tournament saw the highest ranked Pro Ladder players face off for the $25,000 prize pool and Crown Points, which serve as ranking points of Gwent official esports series. Players were also competing for spots in the tournament's final, which guarantee participation in the next Gwent Challenger.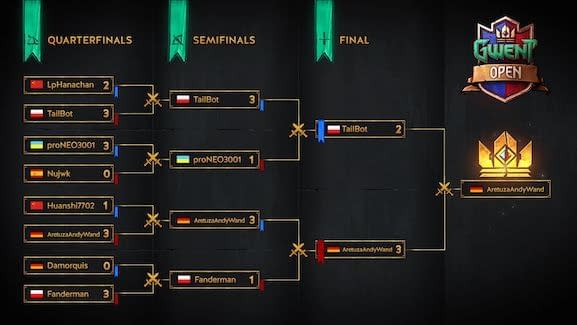 The final standings for the tournament are as follows:
WINNER
Ilias "AretuzaAndyWand" Karamanis (Germany)
FINALISTS
Ilias "AretuzaAndyWand" Karamanis (Germany) — $9,800
Damian "TailBot" Kaźmierczak (Poland) — $5,050
SEMIFINALISTS
Jacek "Fanderman" Leja (Poland) — $2,750
Alexander "proNEO3001" Shpak (Ukraine) — $2,750
QUARTERFINALISTS
Zehua "LpHanachan" Zhao (China) — $1,400
Xiaoxiang "Huanshi7702" Zeng (China) — $1,250
Mikel "Nujwk" Besga Aristizabal (Spain) — $1,000
Daniel "Damorquis" Morkisch (Germany) — $1,000
Another Gwent Open will be held this July. The Open tournaments are part of the Gwent Masters esports series. You can find out more about the Masters, including the ruleset, tournament dates, and format here.
Enjoyed this article? Share it!