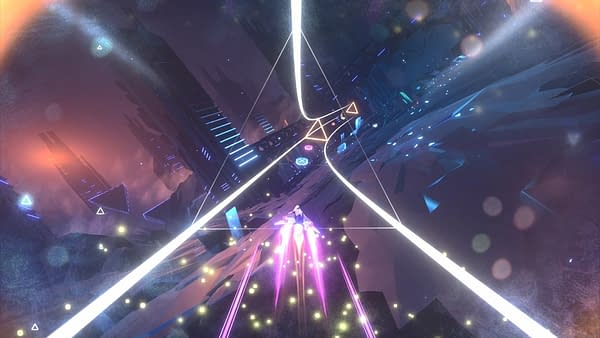 AVICII Invector is an upcoming music game published by Wired Productions and developed by Hello There Games. It was previously slated to release on December 5, but now it's been pushed back to December 10. That means it won't be hitting PlayStation 4, Xbox One, or PC for a few days later. The Switch version is planned for Spring 2020.
If you're unfamiliar with the game, it's meant to evoke the feeling of being at one of the late superstar DJ AVICII's concerts.
"Soar through vocal melodies, sweep each fade and attack every beat in 25 of AVICII's biggest hits, including global chart toppers: "Without You," "Wake Me Up," and "Lay Me Down." Each track is built to perfectly match the on-screen visuals taking you through a musical odyssey of serene exploration," read the game's official press release.
As far as how the game will pay tribute to AVICII's musical legacy, the publisher discussed that as well.
"Tim's tragic death deeply affected millions of people throughout the world. Through his music, he was able to express himself with creativity in a format that gave him the most joy. Behind the scenes, Tim was a dedicated gamer, and together with developer Hello There Games, set about to create a rhythm game as a brand-new way to experience his music."
"Together with the Tim Bergling Foundation, the team have continued his vision with the full release of AVICII Invector, now to be used as a way to keep the light shining on the incredible music, creativity and passion that Tim held," read the statement provided.
"A percentage of profits will go straight to the Tim Bergling foundation, whose mission is to advocate for the recognition of suicide as a global health emergency and promote removing the stigma attached to the discussion of mental health issues."
Enjoyed this article? Share it!