Bullet Age is a Co-op Retro-Inspired RPG with Guns

Liv Games and Halfbot's Bullet Age is a Switch co-op indie RPG. For the most part, the game plays like a classic fantasy RPG with a worldmap, individual towns and areas with tons of quests to pick up, old school dialog text boxes, and guns. Yeah that last bit isn't so classic, is it?
However, all your guns require bullets, and those are rather scarce. So you'll want to make sure you also use your sword to compensate. It also has a decent bit of platforming thats reminiscent of Spelunky and the original Donkey Kong.
Each area you can explore has a boss, and it doesn't take you long to make it to the boss stage, which makes it great for the Switch's on-the-go game style. Or you can blast through several in a row in a more traditional RPG style, but the versatility is great.
And because its multiplayer shared-screen co-op, you'll probably want to play it in TV mode with two Switch pro controllers, but it will work with joy-cons if you set it up with the Switch as its own portable screen. Which makes it somewhat ideal for road trips and long flights.
Bullet Age's official description reads:
The world of New Haven is a wasteland. The ARC empire destroyed it with a single Mutagen Bomb that transformed its creatures to mutated monsters.
Join the Gunsword heroes in this classic co-op 2D action-platformer as they become the last hope for the United Resistance.
Gain powerful abilities to dash, spin, and blast through creepy creatures, mutated soldiers and huge bosses. It's up to you to stop the ARC from achieving world domination.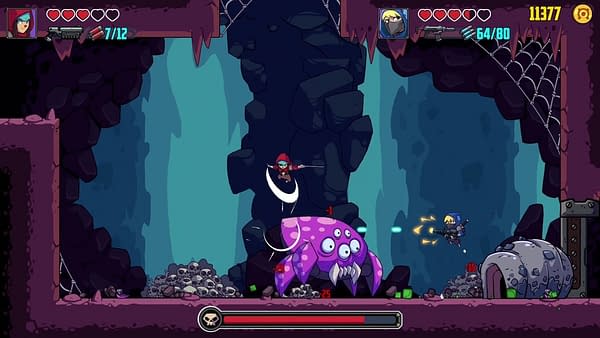 Key Features of the game include:
Play through dozens of meticulously designed levels chock-full of secrets, challenging
platforming and over the top bosses that spans over 3 continents.
Intuitive combat system that mixes hack and slash action and run and gun gameplay.
Purchase and upgrade weapons with unique parts that will give bullets devastating abilities.
Full co-op adventure with single Joy-con support and HD rumble to feel each action and help
you locate hidden secrets.
Beautiful hand-drawn cartoon graphics and fluid animation bring the world of Bullet Age to life.
Bullet Age is set to release this November on the Nintendo Switch — and we definitely recommend checking it out.