"Crash Team Racing Nitro-Fueled" Gets Three More Free Seasons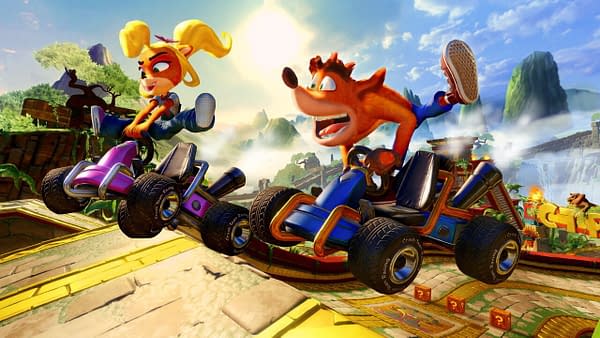 Crash Team Racing Nitro-Fueled is about to get a whole new swath of additional content. Publisher Activision and developer Beenox have announced three upcoming free Grand Prix seasons for the game.
The news broke by way of the official Crash Bandicoot Twitter account. A quick tweet revealed the Spooky Grand Prix, Neon Circus Grand Prix, and Winter Festival Grand Prix. Each season will include its own tracks, characters, items, and challenges, partially detailed in the tweet.
The Spooky Grand Prix season will include the new "Nina's Nightmare" map, the "Skull Rider" kart, and Nina Cortex as a playable character. The Neon Circus Grand Prix will come with the "Carnival" map, "Pressurizer" kart, and another character. The Winter Festival Grand Prix will feature the "Gingerbread Joyride" map, "Nitro Sleigh" kart, and another playable mystery character.
Unfortunately, no further details or release window were given. The small sneak peeks at each new Grand Prix look lively, though. Nina Cortex is an especially fun addition to the game, just in time (hopefully) for Halloween. Previously, Activision and Beenox's plans to introduce new content were outlined in a new E3 trailer back in June.
According to Thomas Wilson, co-studio head at Beenox, introducing new content in ways players "haven't imagined yet" is a priority. As such, he said, "the race definitely isn't over once you cross the finish line." There may even be additional seasons to come following this one that march into 2020. Hopefully Activision will roll out more information on that soon. We've got races to win, after all.
You can snag Crash Team Racing Nitro-Fueled on PlayStation 4, Xbox One, and Switch right now. Further details on how and when you can get the new DLC should be on their way. For now, it's time to get out there and burn rubber.