"Crash Team Racing Nitro-Fueled" will Have Free Seasonal Content
Announced at E3 this morning, Crash Team Racing Nitro-Fueled will be getting free seasonal content updates once the game launches. The seasonal content will come in the form of Grand Prix seasons.
The first Grand Prix will start on July 3rd, 2019 and will include a new track for all players, along with unlockable characters, karts, and customization items. The first track is called Twilight Tour, which takes players on an epic journey by day and night through the middle east.
The first Grand Prix will also release Tawna into the CTR universe, as an unlockable character for the first Grand Prix. There will be new items and characters dropped into the game's Pit Stop rotation each Grand Prix, including members of the Nitro Squad in the first season (formerly known as the Trophy Girls). So yes, Tawna, Liz, Megumi, Ami, and Isabelle are all coming on July 3rd.
The third Grand Prix will bring Spyro the Dragon to CTR, which is a cute Activision crossover.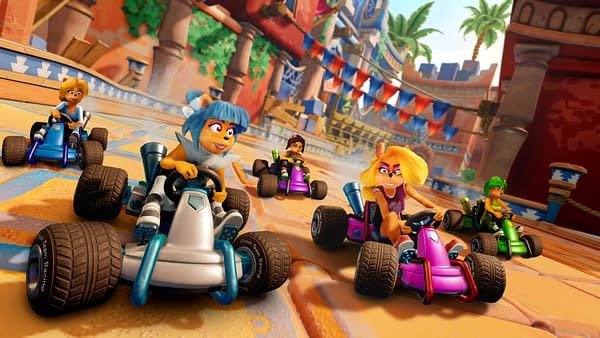 For those attending E3, you can demo Crash Team Racing Nitro-Fueled ahead of its launch in the South Lobby of the Los Angeles Convention Center. The E3 demo will include several remastered Crash Team Racing tracks: Tiny's Arena and Hot Air Skyway as well as the reimagined Crash Nitro Kart tracks: Jungle Boogie and Thunderstruck.
"Crash Team Racing Nitro-Fueled was designed to deliver fun in unexpected and exciting ways. The Grand Prix does that by giving players a reason to fall in love with the game over and over again," said Thomas Wilson, Co-Studio Head at Beenox. "Crash Team Racing was an iconic game in the '90s that influenced how gamers played kart racer games, and we're thrilled to continue that tradition with Crash Team Racing Nitro-Fueled by introducing new content to players in ways they haven't imagined yet— the race definitely isn't over once you cross the finish line."
CTR Nitro-Fueled launches on June 21, 2019, and will be available for the PlayStation 4, Nintendo Switch, and Xbox One.
Racers that want to start revving their engines can pre-order both Crash Team Racing Nitro-Fueled and the Crash Team Racing Nitro-Fueled – Nitros Oxide Edition now. CTR will be available for $39.99 USD. The Nitros Oxide Edition will be available for $59.99 USD.
You can check out the Grand Prix season plans in the brand new E3 trailer below.