Dave & Buster's Has Launched A New World On Roblox
Roblox now has a Dave & Buster's location. No joke, you can go into the game and visit a theme park that's basically a D&B.
---
Dave & Buster's announced that they have launched a new location on Roblox as you can go to a new world that is basiclaly their theme park. This isn't a Roblox creation, this is entirely something the company did on their own as they've created a metaverse with a virtual location for people to visit. Complete with different experiences you can have as if you're viositing the biggest D&B oin the planet. We have a ton of details from the announcement below as you can visit Dave & Buster's World right now.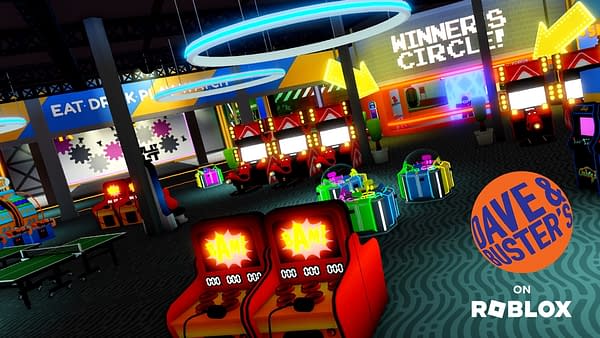 "Dave & Buster's World on Roblox is an interactive and immersive digital experience that reflects the energy and excitement of the actual Dave & Buster's. Each game is designed for multi-user experiences enabling friends to play together and connect in some of their favorite games in a bold new way. While there is no better place to watch football than on Dave & Buster's massive HDTVs, the Dave & Buster's World has reinvented arcade football classic GridIron BlitzTM and Full TiltTM into Roblox versions of obstacle courses just in time for the Big Game. Other games include Superball Dash, an update of old school lane rollers where users become the ball as they race through exotic locations, as well as Zombie Survival, an original take on the arcade rail shooter genre where fans will also be able to take on a horde of the undead. There are numerous other games and secret experiences to discover while exploring the world."
"Dave & Buster's agency partner Camelot Strategic Marketing & Media partnered on the Roblox world opportunity to expand the guest connection in-store and online. The Dave & Buster's World on Roblox was developed by MELON, a mainstay studio and creator on Roblox responsible for multiple collaborations with brands like Chipotle, NFL, Pacsun, and artists across SONY, Warner Music Group, and Universal Music Group. The experience, which is OPEN today, features the latest technological advancements available to developers and brings several Dave & Buster's midway mainstays to life in new and inventive ways."
"Dave & Buster's is the pioneer in midway and arcade games," said Chris Morris, CEO at Dave & Buster's. "That creativity and innovative spirit continues to drive us to explore new ways to expand our leadership in interactive experiences for our guests. I am excited for Dave & Buster's to enter this rapidly growing digital space with Dave & Buster's World."
"Dave & Buster's has been a great partner, because they gave us the freedom to embrace the creativity of the Roblox platform. With their vision, we've been able to bring some of gaming's favorite IPs to the metaverse in larger-than-real-life ways," said MELON CEO Josh Neuman.
"It was important to us that Dave & Buster's World fully capture the fun and interactive energy of a physical D&B," said Pete Thornfield, Vice President of Marketing at Dave & Buster's. "We understand the power of multiplayer experiences, and we are proud to invest in technology and partnerships that deepen digital connections with our guests and complement the real-world experience that we are famous for. Reaching over 58M daily users worldwide, Roblox is not only large but also a uniquely positioned platform for us to grow relevancy with its fastest-growing segment; 17–24 year-olds."