The folks over at Daybreak Games would like to celebrate an H1Z1 milestone on the PS4 they achieved faster than some thought they might. The company announced earlier today that they have reached 10 million players on the console version of the game, reaching that goal far sooner than expected. It does make sense, if you think about it, with PUBG being exclusive to the Xbox, H1Z1 was bound to have the same success being an exclusive tot he PS4. The company even sent out this infographic today to show off the achievement in style, and these details below about new additions coming to the PS4 version.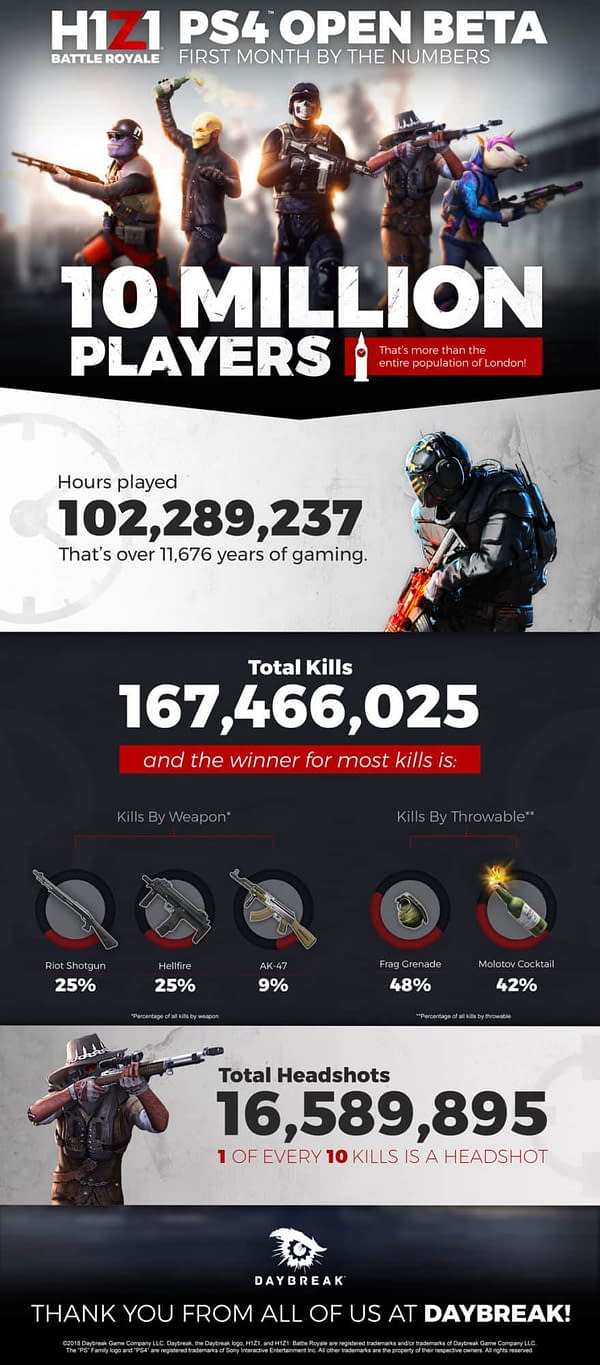 Players have invested more than 102 million hours into H1Z1's first month of Open Beta, and to celebrate, Daybreak Games is giving all players who have downloaded H1Z1 a Darkfire Pickup Truck and Sunrise Parachute in-game skin for free. Players that logged into H1Z1 prior to 11:59 PM PT Wednesday, June 27, 2018 will be granted the in-game items directly to their inventory this weekend.

Daybreak Games today also released a massive new game update for H1Z1 on the PS4. The update introduces Revive mechanics and aim acceleration adjustments to the popular battle royale shooter. It also features a new weapon, the Airstrike Signal, which allows players to call in a series of bombs to drop on enemies.

Reimagined specifically for console players, H1Z1: Battle Royale features fast, fun, and frantic action, console optimized controls, a radial weapon menu, grab-and-go weapons and equipment, and absolutely no inventory management.
The airstrike signal looks to be one of the most formidable weapons in the game if used correctly, as you're basically taking out an entire area's worth of people in a heartbeat to gain several kills and possibly take a match if planned out right. But in any case, it looks like PS4 players are enjoying their exclusive title as much as Xbox players are, and it's interesting to see the game find success while their competitors are still riding high as well.
Enjoyed this article? Share it!