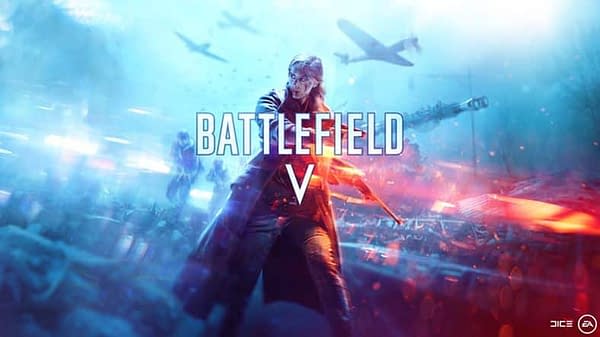 EA developer DICE used the Battlefield twitter account this morning to share details on the single player War Stories campaign mode for the upcoming Battlefield V. Earlier this week we got a teaser trailer showing us many of the different War Stories locations, and yesterday gave us a new single player gameplay video that gave a more in-depth look at the Nordlys, Under No Flag, and Last Tiger stories.
Today's tweetstorm started about six hours ago. Each tweet gives us more information on the background of the various World War II campaigns and battles that were used to inspire the War Stories campaign missions.
In the #Battlefield V War Story "Nordlys", you'll guide a young resistance fighter in occupied Norway in a struggle to rescue her mother and liberate her country. Join a story of family and sacrifice in a desperate effort to deny the enemy materials crucial to the war. pic.twitter.com/vcTfbaIFLq

— Battlefield V (@Battlefield) October 18, 2018
The #Battlefield V War Story "Under No Flag" is one of determination and second chances. Fight in the boots of a criminal pulled from a London jail for a chance of redemption alongside a Special Boat Section unit, and you'll have to do whatever it takes to get the job done. pic.twitter.com/yzFPw4Nlm8

— Battlefield V (@Battlefield) October 18, 2018
In the #Battlefield V War Story, "Tirailleur", you'll jump into the boots of a French colonial soldier and fight to liberate a country you've never seen for a nation that doesn't accept you. This is the untold story of forgotten soldiers fighting on a forgotten front. pic.twitter.com/3PIf4NDm7E

— Battlefield V (@Battlefield) October 18, 2018
From Norway, to North Africa, back to the fields of France and beyond: dive deep and get acquainted with the untold stories of WW2 you'll experience in the #Battlefield V War Stories single-player campaign: https://t.co/Fjfxd6xlc8 pic.twitter.com/DSgjQz30IQ

— Battlefield V (@Battlefield) October 18, 2018
Finally, the twitter barrage ended with a re-tweet from one of DICE's level designers who worked on the War Stories missions. The retweet included a bit of a light spoiler for one of the game's achievements:
I finally got an answer, because I got asked this question a lot.
Completing war stories "100%" will unlock items for your company and some dog tags.
Here you go folks.

— DICE (@EA_DICE) October 18, 2018
I got a chance to take a closer look at some of the Nordlys campaign and the game's pseudo battle-royale Grand Operations mode back at E3 just after the first single player campaign tease, and I was pretty psyched to see Battlefield V go into areas of WWII that we don't often see translated to film or games. That enthusiasm hasn't waned much as we get more and more details on the single player War Stories. My opinions on the Grand Operations mode are a bit more varied from day to day as I recall the demo experience, so I think I'm going to reserve judgement on those, and remain cautiously optimistic for them. Plus, I tend to be more fond of story campaigns than multiplayer mayhem anyhow.
The War Stories campaign, though, still looks awesome. You can't really argue with the cinematics and art involved in the various War Stories trailers we've seen so far, and based on my E3 demo, the game looks nearly as good in-engine.
Battlefield V will release on November 20th, 2018 for Xbox One, PS4, and PC.
Enjoyed this article? Share it!