Some surprising news today from EA Sports as the company revealed that UFC 4 was on the way, and that it will be out next month. The game reveal came with both the trailer, which we have for you below, and the cover art, featuring UFC middleweight champion Israel "The Last Stylebender" Adesanya and UFC welterweight contender Jorge "Gamebred" Masvidal as the duo cover athletes. This also highlights the fact that Madden NFL 21 is not a one-0off, and that this is, in fact, a complete style change for EA Sports with their art and promotion for sports titles.
After a two year departure from the series, this version will feature an all-new unified progression system, an overhauled takedown system, improved ground mechanics, and what the devs called more "fluid clinch-to-strike combinations and the chance to experience the origins of combat sports in all-new environments". The game is designed to be the best version of the series to-date. Career Mode has also taken an overhaul as you will rise through the ranks from backyard pit fights all the way to the main stage in Vegas. Which includes relationship building with your team, defining your personality, and setting up both friendships and rivalries among other fighters. Four new environments have been added including The Kumite, The Backyard, UFC Apex, and Action Avenue. You can't challenge the world in new Blitz Battles or Online World Championships to become the undisputed champ. Performance details like weight class and one of five MMA disciplines, including Wrestling, Jiu-Jitsu, Boxing, and more have been given a few changes and will help define how players fight. There are also over 1,600 new pieces of gear, 120 emotes, and other ways to give your character personality.
If you pre-order the game, you'll also receive two bonus fighters in world heavyweight boxing champions Anthony Joshua and Tyson Fury on day one. We have a few quotes for you below from today's announcement.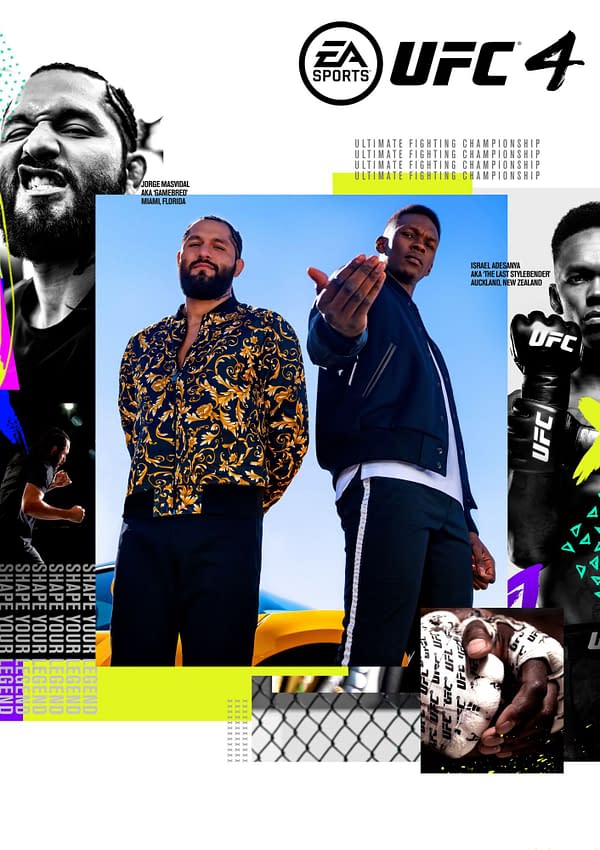 "UFC 4 is the best fighting game ever made," UFC President Dana White said. "Fans can play in the top arenas, as well as in Backyard and Kumite environments. This game allows you to play with the top athletes in UFC history*, plus legends like Bruce Lee and boxing champions Anthony Joshua and Tyson Fury. It's crazy how good this game is."

"I am the face of the new wave of UFC fighters, so it feels right to represent the sport on this new generation UFC game," said UFC middleweight champion Israel Adesanya. "I look forward to my fans playing as me as much as I have enjoyed playing as myself."

"UFC 4 is the most authentic MMA game ever," said Brian Hayes, Creative Director, EA Sports UFC. "We've created a visceral fighting experience that allows players to create their own UFC legacy with Create a Fighter, explore the origins of MMA through our new fighting grounds and be in full control of every strike and takedown with our overhauled core gameplay mechanics."

"MMA is more than about the belt. It's about who you are as a person and the determination that drives a fighter to go from unknown to selling out arenas all over the world," said UFC welterweight Jorge Masvidal. "I grew up backyard fighting so it's exciting for me to see that style of fighting come to UFC 4 where players can bring out their Gamebred mentality."
Enjoyed this article? Share it!