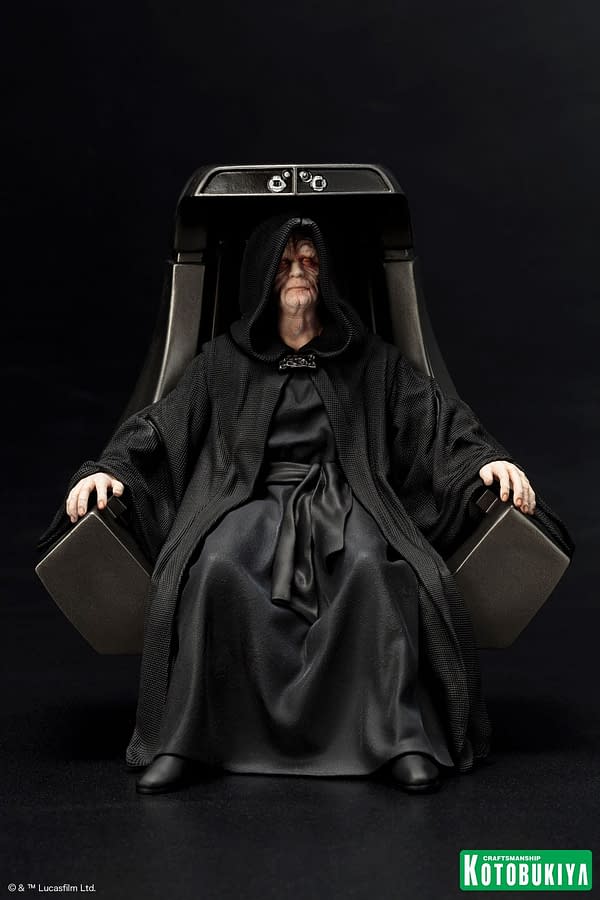 I love writing about this stuff. Kotobukiya, as I have written before many times, continues to be my favorite company producing statues in every scale. For the quality you get at the price points they offer, they really cannot be beat. And this one, which we first saw the prototype of at Star Wars Celebration earlier this year, mat be the best Star Wars statue they have done yet. Based on the iconic throne room scene in the film Return of the Jedi comes the Star Wars: Episode VI – Return of the Jedi – Emperor Palpatine ARTFX+ Statue.
Kotobukiya's next ARTFX+ statue is none other than Emperor Palpatine from Star Wars Episode VI: Return of the Jedi! Emperor Palpatine is sculpted in in detail from his calculating face to the creases in his robe. Statue can be removed from the throne.

Display alone or along side other Star Wars ARTFX+ statues like the Royal Guard, Darth Vader or the upcoming Luke Skywalker, Jedi Knight!
Just look at how gorgeous that looks! The throne looks perfect, right down to the control pads on the armrests. At 1/10th scale, the details really are magnificent to look at. The Emperor himself may have the best face sculpt they have ever produced in any line. The detail in each scar, and the awesome paint deco make his face look like the film come to life. But it is the piercing yellow and red eyes, shadowed by the hood, that really sell this thing for me. From every angle those eyes just stare right back at you and won't let you look away.
This awesome statue is a must-have for any Star Wars fan and is a steal at the $99.99 price point. You can fight me to add this to your collection when he is released in January 2018.
Enjoyed this article? Share it!