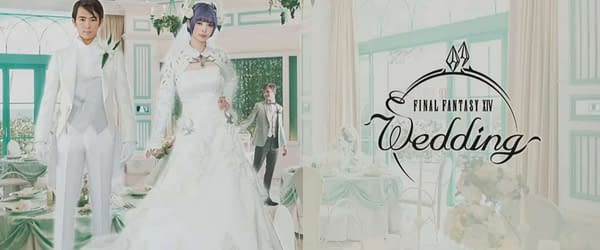 While in-game weddings have been a thing in Final Fantasy XIV for years now, fans haven't been able to faithfully recreate the experience IRL. Until now.
Square Enix has partnered with a wedding hall in Kobe, Japan to create FFXIV weddings in the real world.
From Twinfinite:
Final Fantasy XIV features a quite advanced wedding feature, allowing players to tie the knot in-game with a lovely ceremony. Now fans will finally be able to extend that to their real life.

If you think I'm joking, I'm not.

During today's Letter from the Producer Live broadcast Final Fantasy XIV Producer and Director Naoki Yoshida and Global Community Producer Toshio Murouchi announced The Final Fantasy XIV Wedding Plan.

The plan was created in collaboration with the Kobe-based wedding hall Deuxzero in Hyogo Prefecture, Japan.  It was inspired by the many couples that meet in the game and then end up falling in love and getting married in real life.

On Valentine's Day, Feb. 14, 2019, Square Enix and Deeuxzero will host a demo wedding ceremony for the media.
While we don't know everything about how the weddings will function, we do know they won't be officiated by Moogles. You can find more information on the costume wedding finery and venue design here.
Enjoyed this article? Share it!