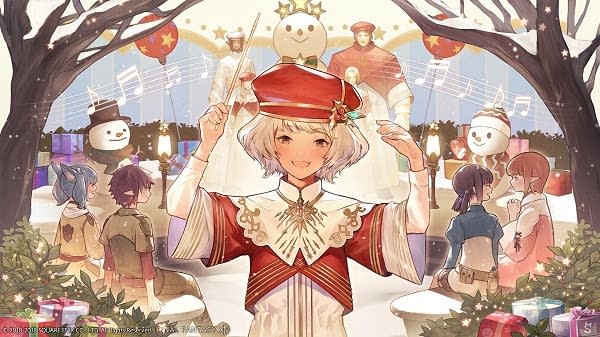 Every holiday season, Final Fantasy XIV celebrates in-game with the Starlight Celebration, which is a thinly veiled Christmas stand-in complete with snowmen, presents, carols, evergreen trees lined with lights and ornaments, and even flying bears in Santa suits.
This year's version of the event will be available for players through Monday, December 31st. The storyline this year involves assisting an Ishgardian choral performance by joining the cast.
The event rewards this year include:
Choir Costume – A hat, robe and shoes will all be awarded for completing the quest.
Silver Starlight Sentinel – Decorate your home with this noble conifer.
Starlight Donuts – Gain these festive tabletop treats, because nothing says celebration like a food coma.
Evercold Starlight Snowman – Decorate your home with this frozen friend that won't melt away.
Opened Twinkleboxes – Collect the remains of many happy Starlight Celebration surprises.
Starlight, Starbright Orchestrion Roll – To help Warriors of Light feel festive all year round!
In the next Letter from the Producer LIVE stream, which will take place on Friday December 21st, the FFXIV dev team will reveal brand new details about the final Stormblood patch cycle. Patch 4.5: Requiem for Heroes will launch in early January and already has its own dedicated mini-site, which you can check out here. Friday's stream will include details on the new main scenario quest line, new instances, and even give us the patch trailer. You can catch the news on the dedicated Final Fantasy XIV Twitch channel.
Finally, early next year will see the Paris Fan Festival on February 2-3, 2019 which will be streamed live on Twitch and give us more details about the game's third expansion Shadowbringers.
Enjoyed this article? Share it!