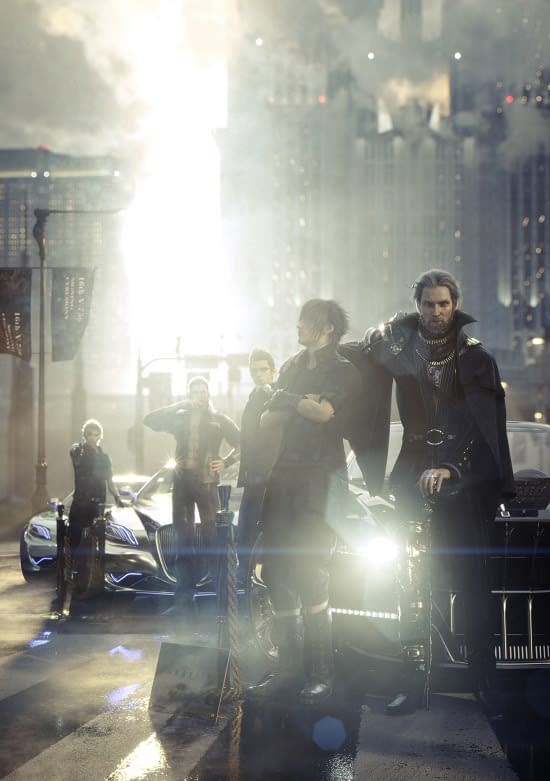 Final Fantasy XV's Windows and Royal Editions have launched today, bringing the complete version of the epic boy-band saga to fans on all platforms. FFXV on PC can be found on Steam, Origin, and the Windows 10 store. Meanwhile, the Royal Edition is designed for Xbox One and PS4 players. Both editions bring all of the DLC add-on content in addition to the base game as well as an expanded map and new areas for players to explore. And to wrap it all up in a neat little bow, we also got a brand-new trailer to celebrate the Windows launch.
You can check out the new trailer below.
The full list of features for both versions include:
Expanded Map: Insomnia City Ruins – all-new side quests and enemies such as Cerberus and Omega will be available through the expanded map of the Crown City of Insomnia. Players will also take on the Rulers of Yore.
A fully-controllable Royal Vessel boat, expanding the world of Eos and allowing players to explore the area between Cape Caem and Altissia. Players will also be able to fish aboard the vessel and discover new fishes and dishes.
A new accessory that can activate the new action "Armiger Unleashed" – players will be able to unleash powerful attacks while the Armiger is summoned. After collecting all of the royal arms, players will be able to find an accessory in an unidentified part of the world, enabling access to Armiger Unleashed.
A new first-person camera mode, allowing players to experience the game from Noctis' perspective.
More than a dozen pieces of downloadable content including weapons, Regalia car skins and item sets.
All season pass content including Episode Gladiolus, Episode Prompto, Comrades, and Episode Ignis.
Archive – players can review the "Cosmogony" stories scattered throughout the Final Fantasy XV world. Additional local myths and legends will also be placed in various new locations, allowing players to obtain more information about the world.
Quest to obtain and strengthen Regalia Type-D .
The Final Fantasy XV base game, with new trophies/achievements.
To run Comrades on Xbox One or PS4, you do need to have an Xbox Live or PS Plus account. If you've already got the base game, you can just pick up the Royal Pack DLC to access the new content.
In addition to the above, the Windows Edition also comes with the following:
High-resolution options and visuals compatible with native 4K (3840 x 2160), graphical options can also be configured to support up to 8K
HDR 10 support
Mod Support – As a preview of what players will be able to do with mod support, players who own the game on Steam can find the Half-Life Pack items in the Steam Workshop. Further mod support details to be announced at a later time.
Tobii Eyetracking Integration
AlienFX Integration – This allows for a more immersive experience with lighting effects tied directly to in-game action on Alienware peripherals.
And if you need to double check your PC specs, the minimum, recommended, and 4K HDR PC specifications for players looking to enjoy the ultimate experience on PC are outlined below.
Minimum Specs
Recommended Specs
4K HDR Specs
OS
Windows 7 SP1/ Windows 8.1 / Windows 10 64-bit
Windows 7 SP1/ Windows 8.1 / Windows 10 64-bit
Windows 10 64-bit Fall Creators update
CPU
Intel Core i5-2500(3.3GHz and above)
AMD FX-6100 (3.3GHz and above)
Intel Core i7-3770(3.4GHz and above)
AMD FX-8350(4.0 GHz and above)
Intel Core i7-7700 (3.6GHz and above)
AMD Ryzen® 5 1600X (3.6GHz and above)
Graphics Card
NVIDIA GeForce GTX 760
NVIDIA GeForce GTX 1050
AMD Radeon™ R9 280
NVIDIA GeForce GTX 1060 6 GB VRAM
Radeon RX 480
NVIDIA GeForce GTX 1080 Ti
Main Memory
8GB
16GB
16GB
Screen Resolution
720p
1080p
4K HDR (2160p)
Hard Disc Free Space on SSD
OVER 100GB
OVER 155GB
Sound Card
DirectSound™ Sound Card, Windows Sonic or Dolby Atmos
DirectX
DirectX 11
Other
DVD-ROM/DVD-ROM Drive*, mouse, keyboard, gamepad**
*A DVD-ROM Drive (one-sided 1 layer / 2 layer) is required
**Game is compatible with gamepad but not required
Enjoyed this article? Share it!