Square Enix has released another character trailer for their upcoming JRPG Octopath Traveler. This trailer is a spotlight for the final two protagonists of the game, Cyrus and Ophilia.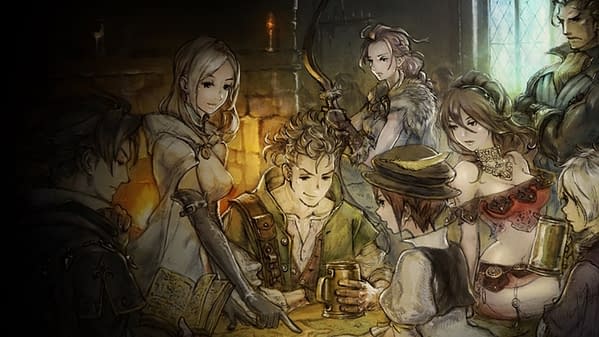 Cyrus is a scholar who can utilize his "scrutinize" action to give you more information about NPCs. Ophilia on the other hand is a cleric that can use "guide" to lead NPCs to where you need them to go. You'll be able to use "guide" to unlock new encounters and situations throughout the game.
So you might want to make her your party mainstay.
The latest trailer also gives us more information on talents, which are additional abilities specific to each character. Cyrus has an ability called "study foe", which is a lot like your typical scan or libra spell. Meanwhile Olberic has "boost defense", which does exactly that, and Ophilia can use "summon" to call aid from NPCs she's guided recently.
Using summon abilities, you can actually increase your party from four to six, as there are two characters capable of summoning outside help. There are eight characters total, with up to four in a standard party. You can swap party members at a tavern.
You start the game with any character of your choice and meet the remaining seven as you travel around. Additionally, you can play the story for all eight characters in a single playthrough, so you don't need to keep creating new games. Unless you really, really want to.
Octopath Traveler will release exclusively for Nintendo Switch on July 13th, 2018. You can check out Cyrus and Ophilia in the brand new trailer below.
Enjoyed this article? Share it!