Gameloft Brings "Disney Princess Majestic Quest" to E3 2019
One of the games we got to try out at E3 2019 from Gameloft was their puzzle title Disney Princess Majestic Quest for iOS and Android. The concept for the mobile title is pretty simple as you will take on the role of the various Disney princesses over the years whose kingdoms have all been ravaged by a storm. In order to help rebuild and fix those kingdoms, you'll take part in puzzle challenges where you will be clearing out shapes in order to get supplies. Each round will give you a new challenge to help repair or improve the kingdom against more doom and gloom, which you'll go through the old-school shame-matching process in order to gain items and complete the challenge.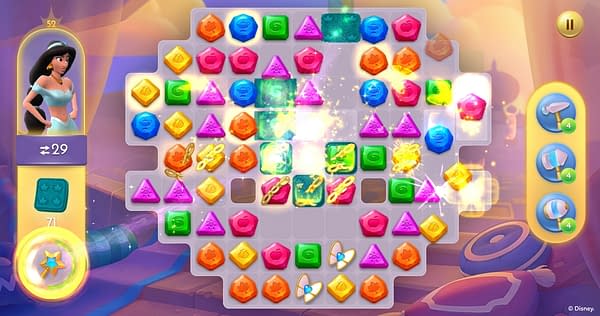 This is one of two properties Gameloft is building in partnership with Disney, the other being Disney Getaway Blast. This game is clearly meant for kids but it's also something that adults can get into if they're really interested in puzzle titles and need something family friendly to play with them. No word yet on when the company will officially release Disney Princess Majestic Quest yet, beyond the idea that it's coming out in 2019. We'll probably find out more at D23 in Anaheim in August.