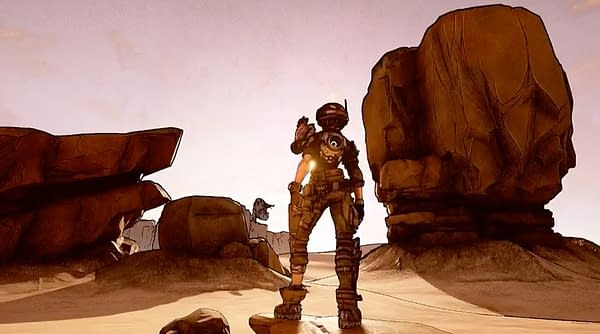 Last night at GDC, Gearbox CEO Randy Pitchford took some time during a presentation to show off some footage from Borderlands 3. According to Pitchford, the content shown was strictly to demo the Unreal Engine 4 in relation to Borderlands 3 and isn't necessarily anything we'll see in the game once it launches.
Pitchford stressed several times that the footage shown is simply a tech demonstration of the engine and "not a video game." Certainly some of this footage could make it into later versions of the game although most of it is just rotating objects. He spent a decent bit of time talking about the technology behind the iconic Borderlands style as updated with the Unreal 4 engine including cross-hatching, god rays, shadowing, and line-lighting. It's very interesting viewing if you have an interest in that sort of thing. It's also worth noting that the footage is based on "current and future technology specifications." Which could mean quite a few things, but likely that we'll be seeing more from Borderlands 3 soon.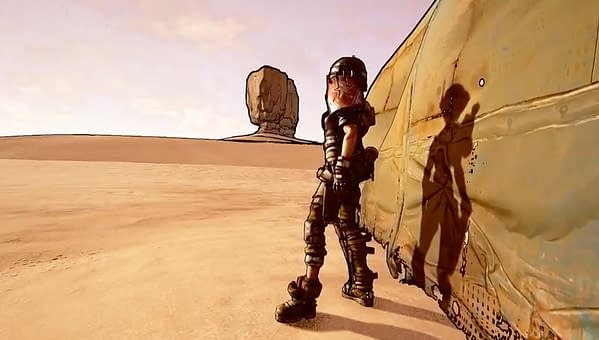 There is a character model in the footage, but their face is intentionally blocked as the character is a "production asset that could go into a future video game" so she very well could be a character from Borderlands 3. Considering Pitchford's very hasty "I want you to forget about the fact that we've cleverly placed the camera here so that her shoulder pad is precluding her face, don't worry about the character, worry about the technology right now," I'm betting this is a shoulder pad we'll see again.
At the end of his presentation Pitchford promised to eager fans that, "we're working on it, we'll get you soon." Pitchford's presentation on Borderlands 3 is embedded below.
Enjoyed this article? Share it!