Gwenpool Marvel Animated Statue Coming to SDCC from Gentle Giant
Gwenpool may have lost her comic, but she is coming to SDCC this year. The Marvel Animated statue from Gentle Giant, based on the art of Skottie Young, will be an exclusive at their booth. She stands at about three inches tall like the others in the line and will feature our hero drinking a Dead Freeze slurpee. The statue will cost you $65, and it actually can be preordered right now. If you do order, it will ship after SDCC in July.
Pulled from the real world, ordinary dropout Gwen Poole (her real name) retreated from her daily struggles and failures by obsessing over the media that she loved, particularly the Marvel Universe. Somehow, she was accidentally transplanted into the unpredictable world of COMICS! Not sure how to get herself back into her own dimension, Gwen made the most of her predicament. She pulled on the Pink and White Tights and decided to jump head first into the action as Marvel's newest hero; the unbelievable GWENPOOL!

This convention exclusive is one of Gentle Giant Ltd's long-running line of Marvel statues based on the illustrations of best-selling Comic artist Skottie Young. Inspired by The Unbelievable Gwenpool #1. This statue was digitally sculpted and replicated for production on state of the art 3D Systems machines. These high-resolution prints are used in the creation of prototypes needed to produce this well detailed, high-end collectible. Each limited edition animated style statue is hand-cast, painted, and numbered with a matching Certificate of Authenticity.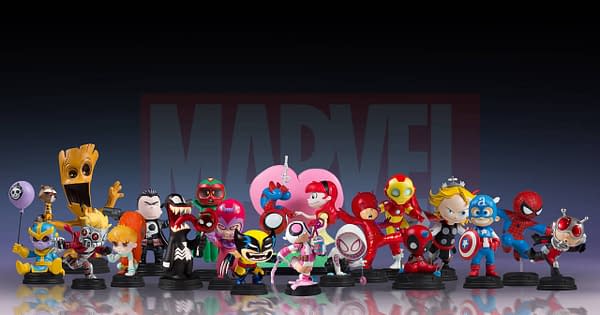 It's hard to believe that there are this many of these statues already. Gwenpool is one of the coolest-looking ones in the line so far, and stands out for sure. My top three would be Thanos, Groot w/Rocket, and Gwenpool. If you would like to add her to your collection, you can do so right here.