Having Drinking Contests with Demons in Afterparty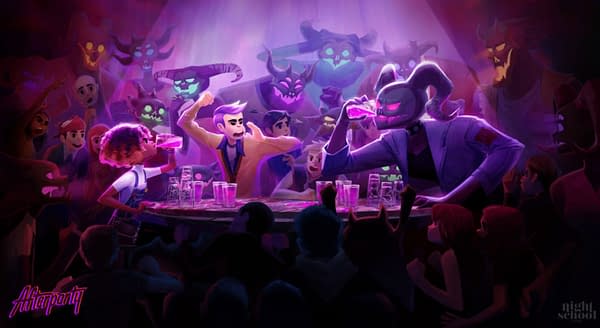 Afterparty is Night School Studio's ltest game, and predictibly, that makes it an indie game worth paying attention to. After all, Night School is the studio behind cult indie hits Oxenfree and Mr. Robot.
Afterparty game puts you in the role of two recently deceased best friends Milo and Lola.
The newly-dead duo find themselves facing an eternity in hell with one way out: if they can outdrink Satan, he'll grant them re-entry to earth. Which naturally leads to some ridiculous shenanigans like challenging demons to beer pong and chatting up people at the bar. The ultimate goal of the game is to figure out why Milo and Lola were damned while also drinking the actual devil under the table.
Afterparty's premise is cute, the execution of the gameplay controls are slick and simple, and the dialogue options are hilarious. While I didn't get to play mich of the game at GDC a week or back, the parts if the game I played and watched were surprisingly engaging.
You can get a better idea of the gameplay from the E3 trailer released last year.