HTC Announces Standalone VR Headset The Vive Focus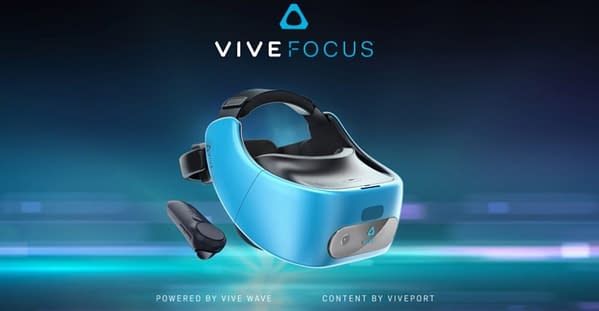 HTC announced its new, standalone VR headset, the Vive Focus today, but it looks like it's not coming to the western world just yet. The company's Chinese website has details on the device, described as the "most immersive VR experience" in the world. Currently there's only a link for developer's kits, and not a consumer-ready product. So it will definitely be a while before we see the Vive Focus in stores. That said, a standalone VR headset from HTC sounds like a dream.
The device uses the Snapdragon 835 chipset, a 10nm Samsung chip found in the Galaxy S8 and S8 Plus. So its tech that works. The Vive Focus is completely wireless and comes with a small controller that looks like a miniaturized version of the Vive's controllers, something Vive says will "save the hassle of connecting to your phone or computer." So the Focus is more of a Samsung Gear and Oculus Go competitor than a replacement for the full-fledged Vive.
However, beyond the processing specs and lack of wires, there isn't much else in the way of specifications on the site just yet. And because it is an announcement mostly about developer kits, there isn't anything approaching a retail price tag on it just yet.
And it looks like the Focus might have killed the Google-HTC headset. According to The Verge, the Vive-branded Google Daydream headset has been cancelled.