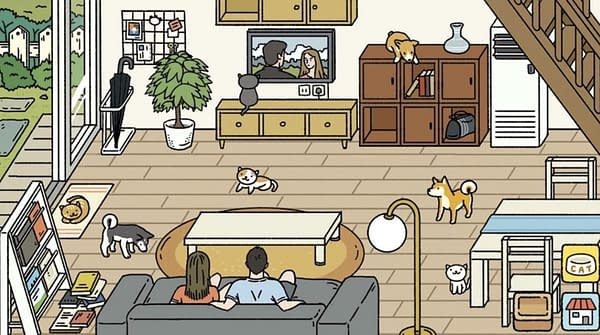 Looking for a cute new app to lose yourself in? Love Neko Atsume? You might want to consider Adorable Home.
The game just launched, and it's a cozy, heartwarming game that follows you and your partner, who have just moved into a new house. You have a white cat named Snow, and all you have to worry about at the game's onset is cleaning it, stocking it with furniture, a TV, and making it feel more like yours.
From there, it's all about how you can further customize and personalize your home in the app. This means you can hang out with your partner and your cat, take photos of each of you spending time together, and record anything interesting that happens.
"Move into a new house and embark on an adventure with your partner in Adorable Home, a life simulation game about decorating your new place, arranging furniture, doing the chores (they're fun, we promise!), and because this is a HyperBeard title, caring for your cat!" the game's press release reads.
"Buy new furniture and cats to capture adorable moments with them in snapshots for your photo album and build the cosy house of your dreams! This game explores mature themes of love, marriage and sexuality and is not appropriate for children below the age of 13."
If you're looking for something new and novel to explore on your phone, you should give Adorable Home a try.
Enjoyed this article? Share it!