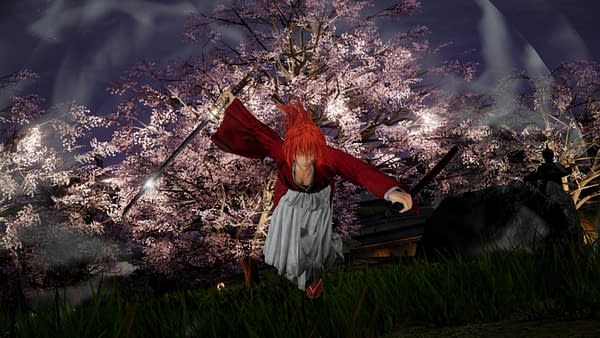 Bandai Namco has revealed the newest characters to hit the Jump Force roster. Because Jump Force is basically Shonen Jump the fighting game, a ton of popular anime and manga characters have already been announced for the massive roster like Yugi Moto, Naruto, Monkey D. Luffy, and Goku. The Ruroni Kenshin characters making it into Jump Force are both the protagonist Kenshin Himura and series' main big bad, Makoto Shishio.
We don't have any gameplay yet for how Kenshin and Shishio, so we're not entirely certain how the two will handle but we do certainly have some hints based on their skill sets as seen in the manga and anime. Both are masters of different sword styles, and its likely their skills will end up similar to the anime versions, for obvious reasons. We can also expect Shishio to have some kind of fire-based skills due to his gunpowder gauntlet and his flaming sword techniques. Kenshin will likely focus on draw techniques, as that's his signature move in the anime.
The original Ruroni Kenshin manga was published in 1994, though it still exists in a different format today. Series creator Nobuhiro Watsuki has been remaking the series since the mid-2000s to tell the story with a more modern sensibility. However, the series most recently entered the spotlight in 2017 when Watsuki was arrested for possession of child pornography and subsequently fined.
In further Jump Force news, it appears that Dragon Ball Z's Cell and Piccolo will be making it to the game. That rumor is based on the January issue of V-Jump magazine (via Newsweek) though Bandai Namco has yet to confirm it.
Enjoyed this article? Share it!