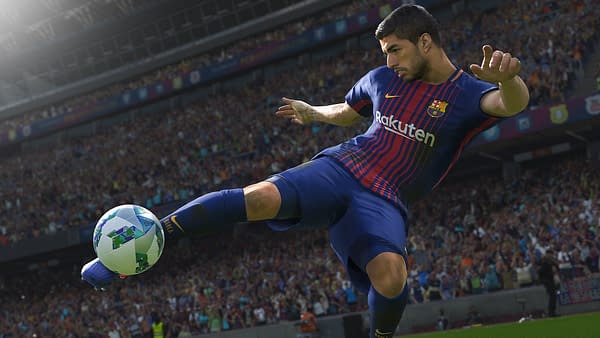 Konami Digital has announced the finalists who will be competing in the PES League World Tour Americas Round. The Americas Round is part of the second season of Konami's eSports tournament for Pro Evolution Soccer 2018.
The Americas Round will feature 20 single players and 10 co-op teams competing for for cash prizes and a spot in the PES League World Tour Europe Round, which will be the final event of the PES League's third season. The Europe Round will be held in May of this year.
The tournament will be open to the public with limited capacity seating on a first come, first served basis. The competition will be held at the Goldencenter Eventos, Salón Fresno (located at Av. Int. Cantilo y Int. Güiraldes s/n, 1128 CABA, Argentina, Buenos Aires, Argentina) on March 31st. You can also watch the event streamed on YouTube, Twitch, and Facebook.
The PES League is Konami's official eSports competition for PES 2018 players. It features local and online tournaments which culminate in the PES League World Finals in the summer.
The finalists for the Americas round are:
Country
Name
Finalists
1
France
TioMiit_PW
2
Spain
josesg93
3
Brazil
Henrikynh0
4
Japan
mayageka
5
Mexico
Andry_pumas
6
Brazil
GuiFera
7
Spain
Alex Alguacil
8
Brazil
Fmestre12
9
Argentina
MelianTheKing02
10
Japan
cgdyea
11
France
aazbabysk
12
Brazil
valber_GYN
13
Viet Nam
FigoVN
14
Brazil
MITO NOWITZKI
15
Italy
Ettoito97
16
Argentina
Host Country Participant
17
Brazil
Ghalbim
18
Peru
Paulinho_99
19
Peru
Jhona_KRA
20
Peru
Cegole
The 10 co-op teams finalists:
Country
Team Name
Finalists
1
France
Neo Esports
2
Netherlands
TOTAL FOOTBALL
3
Brazil
TopPESBrasil – A Squad
4
Argentina
Bidon FC
5
Hong Kong
PESHK
6
Japan
PQM
7
Argentina
KK FC
8
Russia
Отца CITY
9
Chile
elrey-sayajiinuc17
10
Brazil
Tiki Taka Aereo
Enjoyed this article? Share it!