Kylo Ren Gets an Awesome Target Exclusive Funko Set
Kylo Ren was recently the first of 12 new Funko Pop exclusives going up for order on Friday on Target.com. This first release is a t-shirt and Pop combo. Featuring deluxe packaging, This cost $24.99 for the combo. Kylo Ren, of course, is coming off an appearance in The Last Jedi, and this set is based on his appearance from the film.
Packaging-wise, this one looks really sharp. All of the lettering is metallic and shiny in black and silver. Weirdly, the Target logo is nowhere to be seen on the box. It says Target, of course, but no bullseye. This is a very saveable box. I actually think I'd like to see more special boxes like this. It's fresh and different than the classic Pop box we are all used to. I welcome whenever they want to do something like this.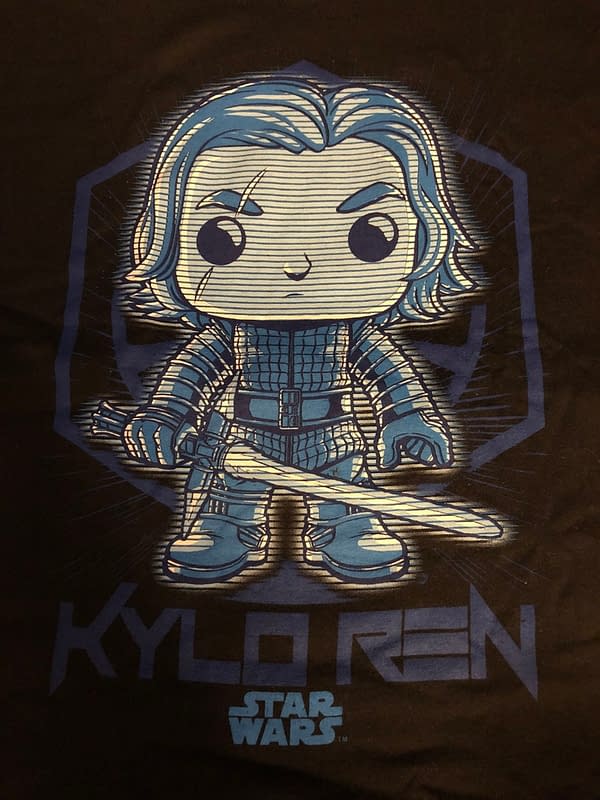 The shirt included is a standard Pop Tee. Basically just a picture of the Kylo Ren Pop inside with holographic blues and logos. It is a cool shirt, but I wish it was a blend instead of 100% cotton. Cotton tends to shrink and lose its shape faster. That drives me nuts, but they're mass producing these so fast that I guess I understand. Doesn't mean I have to like it, though.
As far as the Pop itself, I love it. While the glow-in-the-dark figures look kind of weird on their own, when you get the glow effect actually going, it looks exceptional. It took about four minutes in front of a lightbulb to get it fully charged and glowing, but I love the way the body lights up the other parts of the bobblehead. His face scar pops (sorry, not sorry) while the figure glows. Just a home run all around.
Sadly, I can't link anyone to buy this, as it is sold out. Aftermarket prices have been hovering around $45-60. But if you want any of the other 12 Funko Pops they will be selling, keep an eye here.