July's Loot Crate and Loot Crate DX have the theme of Team-Ups to go alongside the Ant-Man and The Wasp movie out in July (or August if you are unfortunate enough to live in the UK. Seriously, we won't get Incredibles 2 till next month either.)
But what else will be in these subscription crates?
The standard Loot Crate will contain items from Ant-Man and The Wasp, Teenage Mutant Ninja Turtles, Bill & Ted's Excellent Adventure and Adventure Time.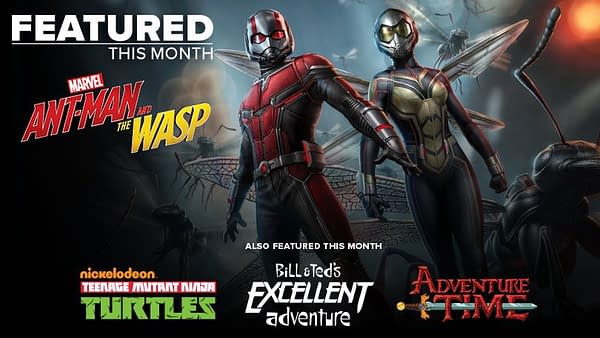 While the Loot Crate DX will have Ant-Man and The Wasp, Power Rangers, Adventure Time, and an additional Marvel item.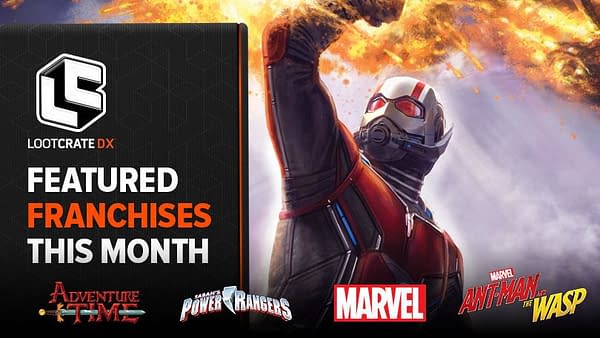 Bleeding Cool readers can get added discount using the BLEEDINGCOOL code and clicking here.
We're still to discover what was in the June crates — though Bleeding Cool gave you a good idea with the shirt, the merchandise and an exclusive early graphic novel.
Loot Crate is a monthly subscription box for the geek demographic that has been running since 2012. Their themes change monthly and can be anything from 'Invasion' to 'Anti-Hero' to 'Future'. Loot Crate teams up with lots of companies such as DC, Marvel, and Nintendo to create a what is intended to be an exclusive and value-added array of merchandise in every crate. One-off crates with particular themes have been released, such as for Fallout 4 and Mass Effect. Loot Crate has also spun off into Loot Crate DX, Loot Crate Anime, Loot Pets, Loot Wear and specific brand boxes such as Firefly, JK Rowling's Wizarding World, Halo and more. They may have benefitted from the recent bankruptcy of rival subscription box Nerd Block.
Enjoyed this article? Share it!