Magic: The Gathering Core 2021 – More Previews "For The Dogs"
Hello there, Magic players and fans alike! Today, we are going through a whole slew of Core 2021 previews for Magic: The Gathering, and boy oh boy, are there a lot! We have already looked into a few earlier today, but we haven't even scratched the surface. We here at Bleeding Cool apologize for hounding you, but throw us a bone here – we also love Magic! The next couple of good-boys will have you howling for more previews, for sure (and that's where we end the dog puns).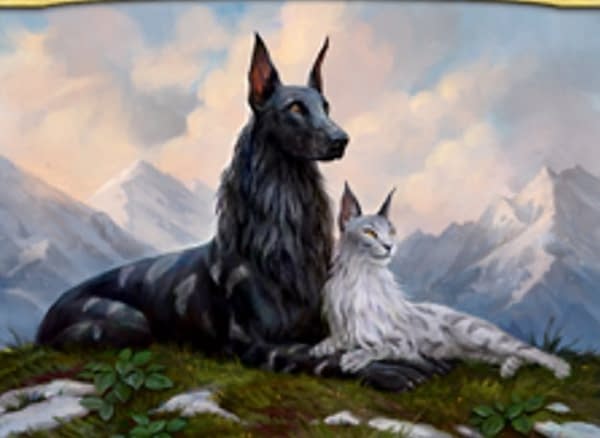 The first card we will be showing off in this article is the Buy-A-Box promo for Core 2021, Rin and Seri, Inseparable: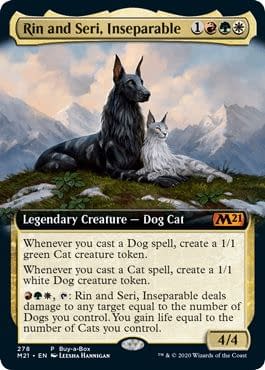 While we know that Wizards of the Coast has stated that they have officially ceased the production of vanity cards (for the most part), we have yet to actually ascertain if Rin and/or Seri are real pets of the artist, someone in Magic: The Gathering's R&D team, or elsewhere. If not, we are pretty sure that a bunch of dogs and cats will receive these names, especially when adopted or bought together. In any case, this card is absolutely adorable.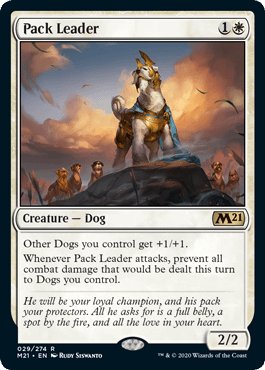 Speaking of good boys, here we have the best boy. Pack Leader is a Dog lord from Core 2021 that care about buffing other dogs and helping them be their best selves as well. The amount of damage prevention available is pretty great as well, if you're willing to invest in this tribe. Furthermore, this card is the Bundle promo, so you'll see it in alternate art when you purchase one (or, let's face it, ten) of those.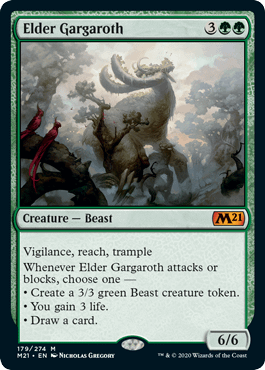 Finally, we have a creature that isn't quite a Dog, but is a good – if not great – boy in his own right. Elder Gargaroth does a splendid impression of Questing Beast while not quite overlapping on the Questing Beast's design territories. Creating tokens, gaining life, and drawing cards are a great thing for this sort of card. This card, in fact, arguably does more than Questing Beast, which is already itself a very difficult thing to pull off. Even at one more mana, this card is a solid inclusion for not only Core 2021 but Magic: The Gathering as a whole.
What do you think of these previews so far? We have plenty more where these came from. Let us know your opinions in the comments below!