Magic: The Gathering's preview season for Core 2021 has officially started! Wizards of the Coast has begun to roll out card previews for the set, following yesterday's delay in observance of the National Day of Mourning in the United States. But now, the wait is over and we finally get to see some of the goodies Wizards has in store for us!

As mentioned in our Part One of the reveals for Magic's Core 2021 preview season kickoff, we here at Bleeding Cool could not fit all of those many, many card images into one measly article. Therefore, we are bringing you as much as we need to convey this story properly.
The cards revealed include Ugin, the Spirit Dragon, Grim Tutor, and Azusa, Lost But Seeking. These are all reprints as is customary for a Core Set to have, but Grim Tutor is an especially big deal here. Printed only on paper in the Starter 1999 set for Magic: The Gathering, this card as of this announcement holds a $200+ USD price tag.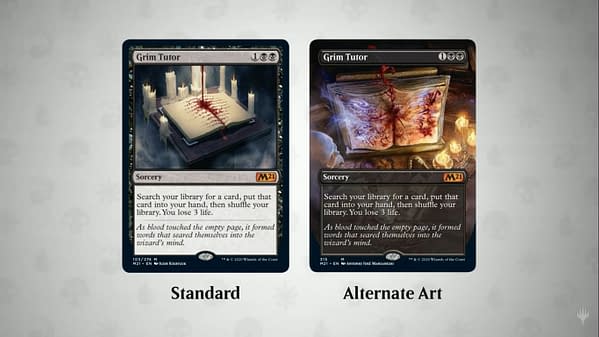 It is exceedingly infrequent that such a valuable card would be printed in a Standard-legal set after the secondary price has been well-established. This card hasn't seen fresh print in roughly two decades; to see it printed now will also see its price plummet to the ground, even as a mythic rare. With two versions (at least), this card will finally become more affordable to those looking to obtain one.
For what it's worth, Ugin, the Spirit Dragon is also an expensive card at the time of this article's publishing, commanding a steep $53 price tag on the secondary market. This set will be very kind for players looking for a lower ceiling to break through in order to play Magic.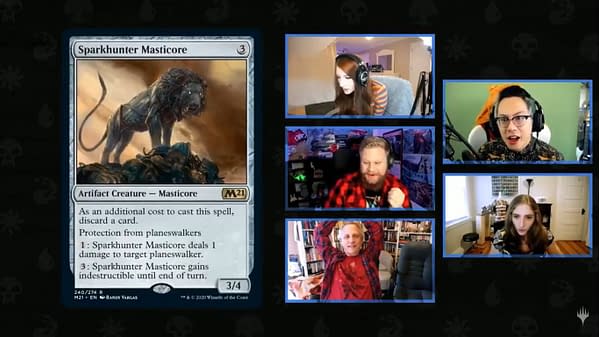 As mentioned in Part One of these reveals, Wizards of the Coast styled these reveals like a variety show, hosted over YouTube by Jimmy Wong and featuring a whole slew of Magic celebs. Above you'll see Mark Rosewater, Head Designer for Magic: the Gathering, show the new card, Sparkhunter Masticore, to a bunch of content creators from the United States (he also showed this card to streamers from a bunch of other countries via webcam as well).
Are you excited for these Core 2021 reveals? Are you excited for future reveals, as this Magic: The Gathering preview season continues? Let us know what you think in the comments below!
Enjoyed this article? Share it!