Hello, fans and players of Wizards of the Coast's premier trading card game Magic: The Gathering! We here at Bleeding Cool have been looking at the previews for the next upcoming expansion set for Magic, Core 2021, and we'd like to share what we have seen and know with all of you, as well as share our observations on the new cards.

The first card on our list today is a multicolor card originating, in-game, from the Selesnya Conclave of Ravnica. Conclave Mentor is a green-white version of a Winding Constrictor-type effect, and we are absolutely here for it!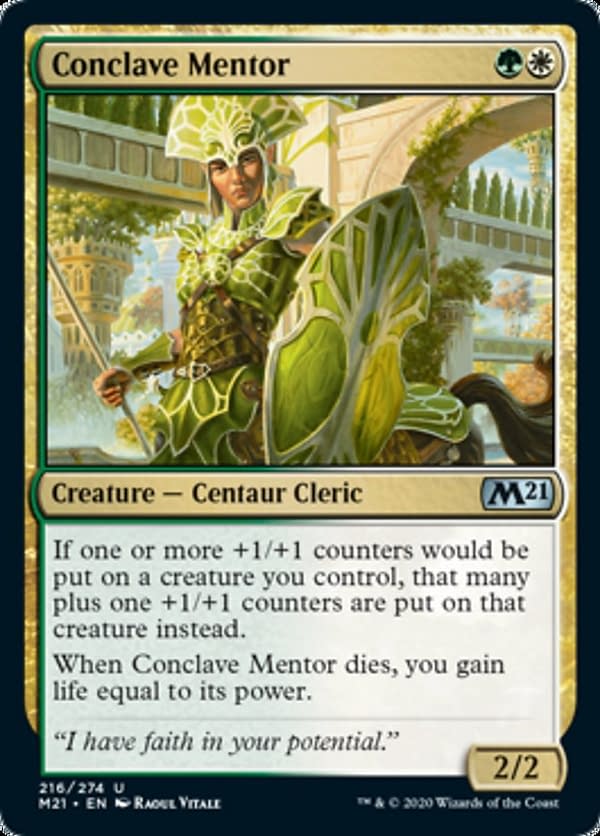 Concerning the lore and flavor of this card, it is unclear whether or not the guilds of Ravnica have actually dissolved or merged since the events of War of the Spark, but if this card from Core 2021 is depicting current events in the scope of the game's world, the Selesnya Conclave is still alive and well.
Next, we have a card that, despite also being in a "guild", feels very different from the Mentor above: Thieves' Guild Enforcer!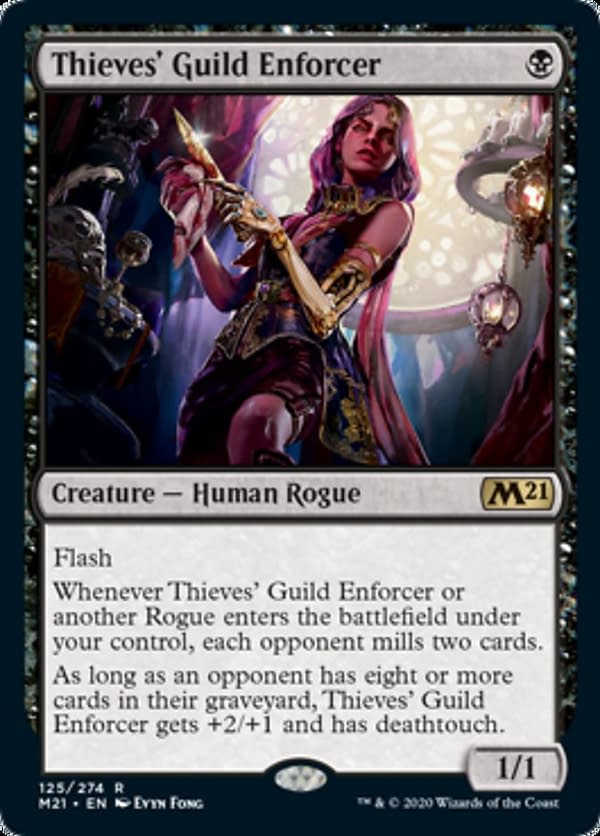 Thieves' Guild Enforcer does some very different things than Conclave Mentor, so it is not really worth comparing them in actuality. This card is a good showcase of the "mill" ability word that has been crafted for the first time in Magic: The Gathering history with Core 2021, despite being an ability that has been around for much longer than the word's official usage. We aren't sure if there could have been a better word to replace "mill", but it's definitely a great callback to the original mill card (and the reason it's called what it's called), Millstone.
For the last of our previews, at least for the time being, we have a blue card in Enthralling Hold.
A control Aura at uncommon, Enthralling Hold can only target creatures to steal if they are tapped, making Limited all the more interesting if facing down blue decks. You won't want to swing into an opposing board unless you know you can win; otherwise, your opponent may just steal your best or biggest creature and turn the tides of the game completely. Will you risk it?
What do you think of Core 2021's preview season? Now that most of the heavy-hitting stuff has been revealed, how are we evaluating all of the less-flashy cards? Let us know how you feel in the comments below!
Enjoyed this article? Share it!