Magic: The Gathering's preview season for Core 2021, their newest upcoming set, is still in full swing! We here at Bleeding Cool wanted to emphasize the level of bridging between themes and concepts in this new expansion set with a marriage theme to a few of our preview articles. We already covered something old, Core 2021 is doing the heavy lifting by literally being something new, and we also covered some things that were borrowed. So, naturally, it's time for us to delve into some cards that are blue!

First off, we have a bit of a blast from the past – this card could have easily featured in any one of our previous preview pieces, but we kept it specially for this one. It's Rewind!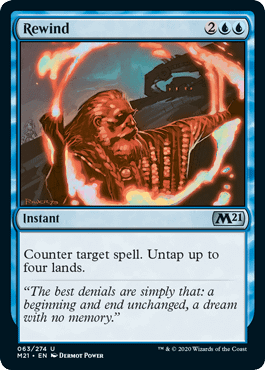 Rewind is a fairly self-explanatory card; you counter a spell for free, sometimes even with a net gain of mana, but provided you have the mana to spare in the first place for a four-mana counterspell. It's not the best value piece – those are simply the kinds of cards that come for cheap or free with zero, or at least fewer, strings attached – but this is still a very welcome reprint.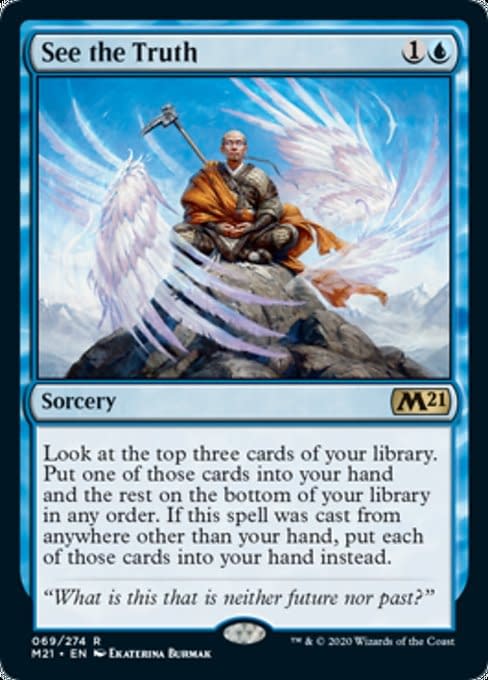 Cards like See The Truth and other "cantrips" are interesting because they provide players a baseline of immediate value regardless of how they're played, but this card is even better because it provides an upside for being cast from a zone other than your hand. Would we like to draw three cards for two mana? Absolutely! But would we scoff at drawing the best one out of those three and putting the other two cards on the bottom of our deck for two mana? Not at all.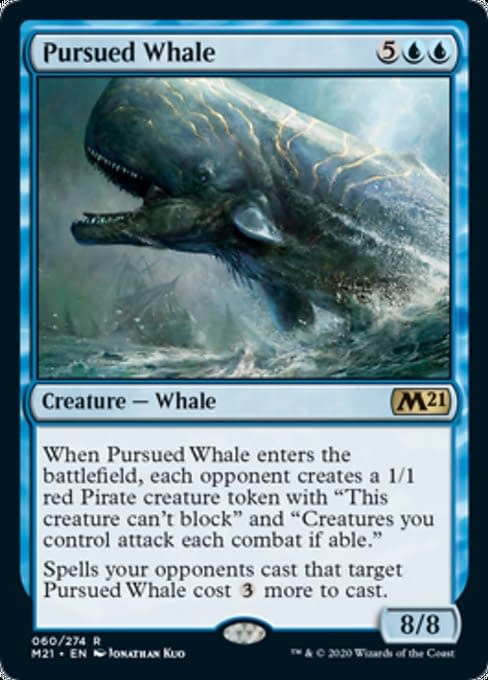 And finally, we have Pursued Whale. This colossus of a card forces your opponents' creatures to attack – probably towards you but anywhere will do, in all fairness – through the creation of creature tokens that they can't block with. The upside to that is usually it means your opponents will be open for more attacks, either from you and your Whale or a mutual opponent. Plus, the Whale itself is hard to target with any kind of removal short of counterspells or abilities. The Moby Dick analogy isn't lost on us, either, so the creative team over at Wizards of the Coast R&D deserves some accolades for this card.
What do you think of these previews? Hopefully, they don't leave you feeling too blue. Let us know your opinions on the new set in the comments below!
Enjoyed this article? Share it!