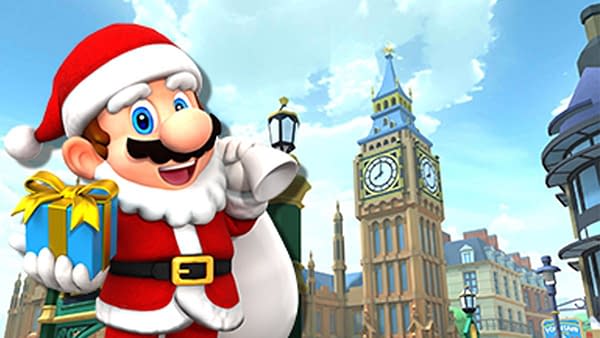 Make way for Mario Kart Tour, London!
The mobile racing game is setting down for its latest stop across the point. Mario and friends are headed to London for the latest leg of Mario Kart Tour. That means, in addition to a new London track, it looks like both Daisy and Waluigi will be spreading holiday cheer.
The new tracks and drivers will be added to the game as of December 3 at 10 PM PT. That means your favorite Nintendo characters are taking a trip out to jolly old England!
Can't wait to hear the latest on what's coming up in #MarioKartTour? Then we have good news! Starting on 12/3 at 10pm PT, take a trip across the pond to London, the capital city of England! And get ready for two drivers to be added to the spotlight pipe! Who could it be? #MKT pic.twitter.com/y8s3qa8ULF

— Mario Kart Tour (@mariokarttourEN) November 29, 2019
Mario all kitted out in Santa gear will also be seen in-game until December 31. It seems like you won't get hang out with him unless you're lucky, but there's a nice portrait of him via the official Mario Kart Tour account if you're curious, at least.
Mario Kart Tour has been to several locations since its September launch. Previously, it traveled to Paris and its first tour even took place in Japan. It's doing quite well for itself, even if it doesn't currently have a multiplayer offering.
Have you been racing around the world with Nintendo's latest mobile title? Let us know how you're finding it.
Enjoyed this article? Share it!