Marvel Battle Lines Will Not Include the Liefeld Captain America Cover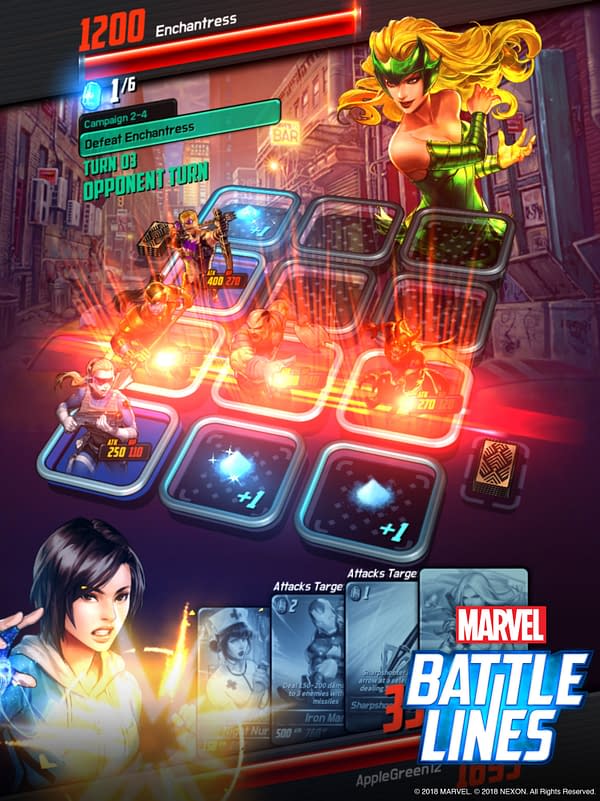 Nexon and Marvel are working together on a brand new Marvel-based card game called Marvel Battle Lines which is something like card-based tic-tac-toe but with a three-by-four grid. Players have the option of playing through single player missions and multiple types of PvP matches. There is also a puzzle solving mode.
Essentially, the game works in a really simple way. You want to place your cards in a way that they form a line, and then your cards combine into a super attack that pretty much devastates your opponent.
I got a chance to sit down with the dev team from Nexon at New York Comic Con earlier this month to talk about the game's story, art, and game design. The first thing I really wanted to know was the reason for the grid setup, and their answer did not disappoint. The idea behind the grid is to give players a unique take on the mobile card battle genre, and do so in a way that isn't quite so predictable. Most people are pretty good at forcing draws in tic-tac-toe after all, so the fourth line was added to give an extra layer of complexity without overwhelming players with a massive battle grid.
The art in the game is all original, but the team at Nexon is working closely with Marvel to make sure all your favorite heroes and villains look exactly as they should. While some of the art is definitely inspired by the comics – the battle line animation is a series of overlapping comic breakout panels – its not taken straight from the comics, nor is it replicated. Now, the team did mention that things might change going forward, but it does mean that, as of right now, there are no plans to bring back some infamous comic covers, like, say, Rob Liefeld's Captain America cover.
Yeah, you know the one.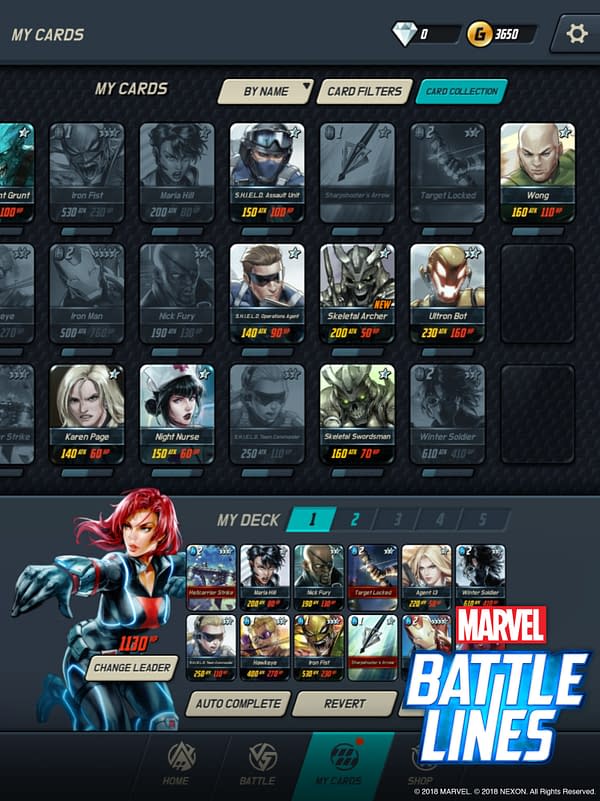 The game's single player campaign mode includes a story that's been written by Marvel comic writer Alex Irvine, and has to do with the cosmic cube and fragments of Marvel's iconic characters being scattered around the world. Players use those fragments to battle evil, and well. That's about all Nexon is willing to mention right now.
As is the case with most mobile games, there will be an in-game currency that players earn as well as a hard currency that players can buy.
As for the list of characters, it's rather massive with over 150 cards being planned for the launch. Fan favorites like Iron Man, Black Panther, and Squirrel Girl will naturally be included in the game, but so will more unkown characters like Night Nurse and Karen Page.
Marvel Battle Lines will be available on october 24th, 2018 for iOS and Android devices. Fans can pre-register right now to recieve an exclusive Doctor Strange card and 5,000 in-game gold. The single player campaign and PvP arena will be available at launch with several events set to follow.