Megaquarium just got a new DLC pack as part of an update to the game as players can now explore the Freshwater Frenzy. Twice Circled and Auroch Digital has done a pretty good job updating the game to keep it interesting, as you play a theme park management tycoon kind of title with an aquatic twist. Some of the new additions to the game include choices like the prehistoric Arapaimaand the always deadly and scary as hell Piranha. There are also a number of new care requirements to learn, which will require new aquascaping requirements to fulfill. You'll get to learn all about floating cover and bogwood, as well as other challenges in your way to making the environment friendly. Also, for the first time in the game, you will be able to become a breeder. As in setting up eggs to hatch so you can have more animals in the exhibit. However, this too can be a massive challenge that comes with its own rigorous knowledge and planning. you can read more about the updates below and check out the trailer for it as well.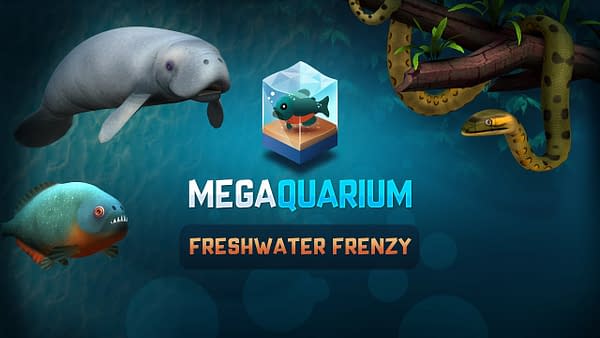 30 new freshwater species, including fish, reptiles and even a mammal; each with their own unique care requirements to fulfil.
The ability to become a breeder and rear baby animals.
Selective breeding to create hybrids with unique color and pattern combinations.
New accessories and posters to optimize aquarium displays. Bonuses are awarded to players who use these strategically!
New tanks for animals requiring both land and water habitats, like turtles and crocodiles.
A new five-level freshwater campaign designed to challenge players to make the most of the latest additions and explore the game in new ways.
Dozens of new objects including plants, equipment, seven new tanks, four new accessories to equip staff with and four new paints to keep the aquarium looking fresh.
Enjoyed this article? Share it!