Naruto: Ultimate Ninja Storm Trilogy is Coming to Nintendo Switch
Shonen Gamez has unearthed an ad from this week's issue of Shonen Jump advertising the Naruto Shippuden: Ultimate Ninja Storm trilogy on the Nintendo Switch. The Switch port has been rumored to be in the works, so this report is more of a confirmation than a proper announcement.
Shonen Gamez report reads:
After tons of rumors and speculation, we've gotten confirmation that the Naruto Storm Trilogy (not legacy which contains Storm 4), is coming to the Nintendo Switch!

The game will be more or less identical to its port for the other consoles, but we'll have more details when the scan is translated. For now, check out the scan below!
The trilogy will include Naruto: Ultimate Ninja Storm, Naruto Shippuden: Ultimate Ninja Storm 2, and Naruto Shippuden: Ultimate Ninja Storm 3. The games will not include the fourth and final game in the series, Naruto Shippuden: Ultimate Ninja Storm Legacy.
Ultimate Ninja Storm covers Naruto's childhood up until the first Valley of the End battle. Ninja Storm 2 covers the events of Shippuden up through Pain's attack on Konoha. And Ninja Storm 3 covers Shippuden through the early stages of the Fourth Shinobi World War. So we don't get to see the conclusion of the war, the battle with Kaguya, nor the final confrontation between Naruto and Sasuke at the Valley of the End, but we do get a huge chunk of the manga.
You can check out the full-page ad below.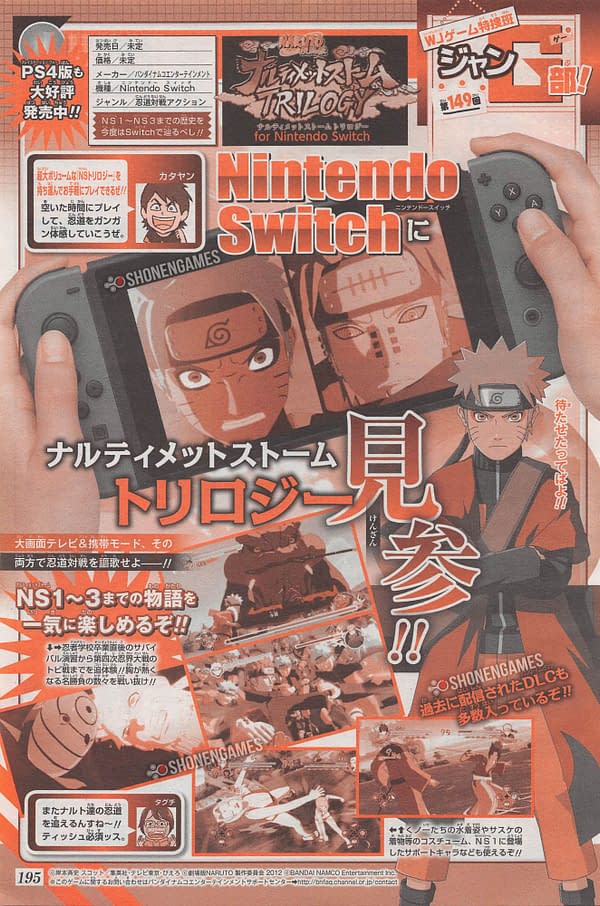 Naruto fans will be pleased with the opportunity to take the games on the go with Nintendo's hybrid console, but we don't have an indication of when the trilogy will launch on the Switch.
The Trilogy first released on PS3 and Xbox 360, however all four Naruto: Ultimate Ninja Storm games (including Legacy) are available on PS4 and Xbox One.