New Resident Evil 3 Mod Replaces Nemesis With, Uh, Shrek?
Resident Evil 3's Nemesis is terrifying no matter how many times you face him, but have you ever considered that he could be even scarier if you replaced him with something else? Something even more devious? Shrek might do the trick. Piggybacking off the success of the many Resident Evil 2 mods that added strange characters into the game to make it silly and less scary, the newest Resident Evil 3 mod features Shrek, who's more than just an annoying ogre this time around. He's got a much more menacing role, and that includes chasing Jill around.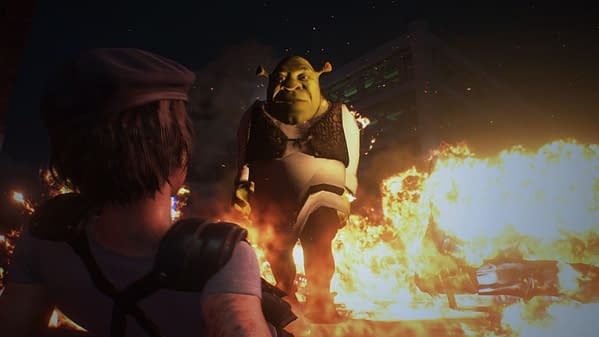 The mod is called Shrek Over Nemesis, and it will take Nemesis out of the first stage of the game before Nemmy gets all messed up and is missing pieces of himself carrying a flamethrower. But that's plenty of time to keep lumbering around and strike fear into players' hearts. Plus, it isn't Shrek's voice that comes out of Shrek's body this time around. The mod retains Nemesis's original voice, so you can hear that creepy "S.T.A.R.S.!" growl coming out of the swamp ogre's body. Of course, a great Mike Myers impression might have been pretty cool, too.
The mod is free to download, so if you're looking to get some Resident Evil 3 in while you finish out this shorter week, you might want to try it out. It's hosted over at NexusMods, and you can find it here if it seems like it might be up your alley. If you haven't finished the main Resident Evil 3 Remake campaign, you might want to go do that too. It's a great reimagining of the original game, though it's nowhere in the same league as Resident Evil 2's remake was. For fans, though, it certainly shouldn't be missed, because the chemistry between Jill and Carlos has to be seen.