Overwatch Contender Player "Ellie" Confirmed as a False Identity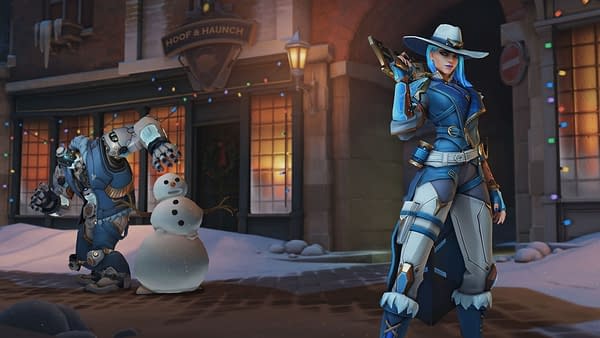 Overwatch Contender team Second Wind added a new player to their roster just before the new year, but the player in question quickly received negative attention from Overwatch esports fans. A new player hit the top 10 ranks on the Overwatch NA server and was revealed to be a player known as "Ellie". Second Wind had recently lost a few players and needed to fill a slot on their roster and were eager to onboard "Ellie" to the team. When "Ellie"'s placement was announced there were several people in the Overwatch community who questioned the secrecy involved. Ellie was the only player on Second Wind's roster who did not have her full legal name listed on the official Overwatch Contenders site. Threats to dox her soon followed.
Shortly thereafter, Ellie stepped down from the Second Wind roster.
As part of their oversight of the Overwatch Contenders league, Blizzard does background checks on all players to assure that they are who they claim to be. The background check done as part of Second Wind's roster approval revealed that "Ellie" was a faked persona. A representative from the Overwatch esports arm of the company offered the following information when asked for comment:
After investigating the matter, we found that "Ellie" was a fabricated identity and is a smurf account – created by a veteran player to obfuscate their identity. The owner of Ellie's account is a player with no current or prior involvement with any Overwatch Contenders or Overwatch League team. "Ellie" was never formally submitted to the active roster of Second Wind and never played in a Contenders match.

As part of the process to officially add a player to a Contenders or Overwatch League roster, we do background checks to ensure that players are who they say they are as well as meet other eligibility requirements, and will take action against players if we discover any behavior that warrants it.
Second Wind's management put out a lengthy statement on TwitLonger, which summarizes the situation from their perspective. According to Second Wind management, they had no knowledge of Ellie's identity prior to Blizzard's background check.
As soon as Ellie was announced, many questions came up regarding the legitimacy of the player. We reached out to Blizzard early on to help verify their identity and calm the suspicions about our newest player, doing the best we could for the time being. During this time, we worked with Ellie to improve their public presence by prepping them for interviews, streams, and encouraging an environment where they could play with other team members publicly. This unfortunately fell through due to Ellie opting out for "personal reasons" we did not want to press them for. Ellie began receiving doxxing and personal threats due to their anonymity. In a bid to respect Ellie's request for privacy, we contacted Blizzard about not having their name published on the Contenders website. As a team, we admit we handled this poorly. More could have been done to support our players, but we had found ourselves unprepared for the attention Ellie got upon their onboarding; we had full faith in them. Due to our desperation to fill a roster, we unfortunately overlooked crucial information that should have been paid more attention to. We did not properly allocate enough time to communicate with the public as a means to support our players, and as a result caused more questioning that could have been avoided.

Ellie decided to step down on their own, and shortly afterwards we announced their departure from the team. As of today, Blizzard had gotten back to us on the background of Ellie, and notified us that they were not who they claimed to be, and discovered that the Ellie account was used for purposes we do not support. We apologize to the community as a whole for not handling this situation better when we should have, and we will aim to do better.