Overwatch Officially Adds the Rialto Map as an Escort Mission
Now that the latest event is finished in Overwatch, the developers have made good on their promise to add the Rialto map to the game and have officially done so today by making it an escort mission. The map gained a lot of popularity during the Archives event where you played as four members of Blackwatch trying to escape what was clearly a setup after you decided to go get revenge for the destruction of a secret black ops base. You may have barely escaped with your lives in that mission, but in the new one, you'll be taking a tour of the city for a new escort mission from the vault to the restaurant. Here's the official Rialto description and debut video below.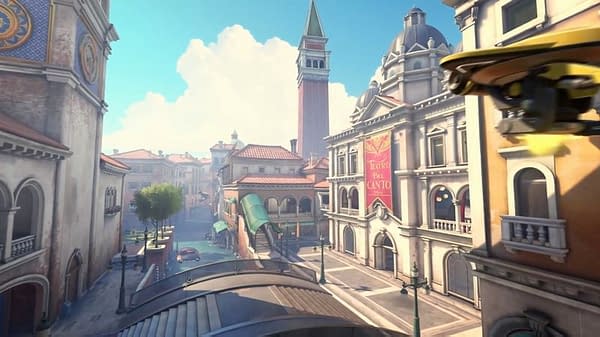 Rialto was home to Talon agent Antonio Bartalotti's sprawling estate and the backdrop to the infamous "Venice Incident," a turning point for Overwatch and Talon. The Italian government has taken great steps to preserve Venice, and the results are striking. Tourists visiting this picturesque town can sample the regional cuisine, enjoy a relaxing gondola ride, visit Galleria D'arte Omnica (the local art gallery), or simply take in the sights with a stroll along the canal.