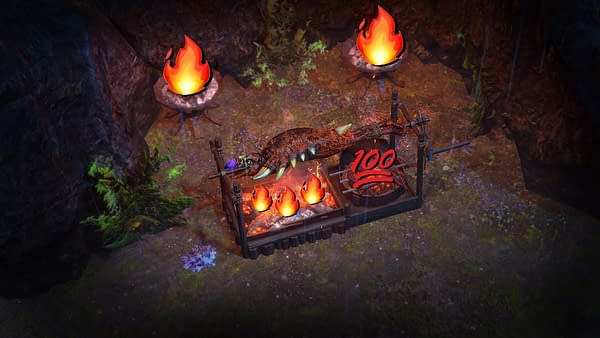 Path of Exile is adding a playable Battle Royale mode for one day only. You even get a nice winner's Roha dinner if you manage to survive the match. While Path of Exile isn't exactly the kind of game you'd expect to add a Battle Royale mode, it is pretty darn fun. You take the game's action RPG gameplay and toss it into a mutli-player deathmatch and somehow it creates something almost magical.
While the mode will run with 20 players at a minimum, you can play with up to 100 players in a single match. As with other Battle Royale modes, there's a shrinking circle players must follow to avoid death between bouts with other players. If you manage to actually win one of the modes, you'll receive a Rhoa (which is a kind of dinosaur, which is sort of a chicken?) Dinner ornament to display in your hideout.
Directions on how to play the Battle Royale mode according to Grind Gear Games' official announcement are:
If you don't already have a Path of Exile account, sign up here.
Run the PC version of Path of Exile and let it download patch 3.2.2 (PATH OF EXILE: ROYALE).
Launch the game, and log in to your account.
Click the Join button on the PATH OF EXILE: ROYALE banner which is displayed to the left of the screen.
Choose a character class and name as normal.
Once in the game, you won't be able to move until the game starts. Once there are 20 players, there will be 30 additional seconds for players to join (up to maximum of 100) before the game starts.
Games are hosted on servers located at the gateway you logged in on. If there aren't enough players, try a different gateway.
Once the game starts, the play area will shrink periodically. Stay within the red circle or you'll die.
The direction to the centre of the safe zone is always displayed at the feet of your character, so keep moving in that direction.
You can start playing today once you download the latest patch. 3.2.2.
You can check out the official reveal trailer for the game mode below.
Enjoyed this article? Share it!