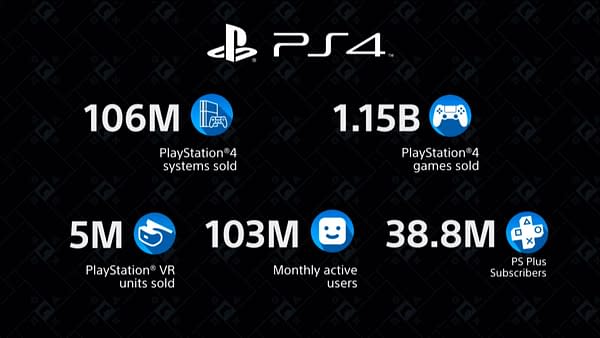 Sony's been doing pretty well for itself.
During its Monday presentation on the CES 2020 stage, the company made a few announcements related to its PlayStation series, including what the new PS5 logo will look like. Surprise, surprise – it looks just like the others.
More importantly for Sony as a company, the sales numbers they released during the conference were impressive – specifically, there have been 106 million PlayStation 4 systems sold through since release. Here are a few other tidbits from the announcements:
PlayStation 4 games sold: 1.15 billion
PlayStation VR units sold: Five million
PlayStation Network monthly active users: 103 million users
PlayStation Plus subscribers: 38.8 million users
"I am very pleased to see that so many PlayStation fans value the unparalleled entertainment experience on PS4," Ryan said later in a press release.
"This has been made possible by the support we have from our partners and fans since launching PlayStation in 1994, and I would like to truly thank everyone. We've consistently delivered innovative products like PlayStation VR, which has reached its five million unit sales milestone. There is much more entertainment experience to look forward to that the PlayStation ecosystem will provide that we can't wait to share with our fans."
These are all impressive numbers indeed. It'll be intriguing to see what happens to said numbers when the PS5 finally debuts during the 2020 holiday season.
Enjoyed this article? Share it!