PlayStation Now Adds "Persona 5" and More For November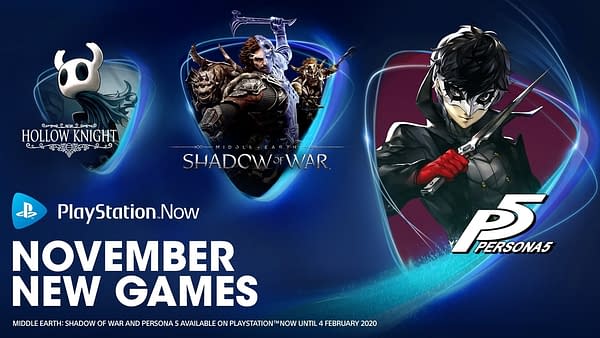 PlayStation Now is welcoming a slew of new games for November, including one exciting addition: Persona 5.
Right now, PS Now subscribers can jump into the service to try out Persona 5, Middle-earth: Shadow of War, and Hollow Knight. These games join a library of over 800 games for you to choose from across PlayStation 4, PlayStation 3, and PlayStation 2.
Persona 5 is an excellent RPG with a ridiculous amount of content to experience. Being able to jump into PS Now, which is $9.99 a month, means you get to play it as well as hundreds of other games on the cheap. That's great news, considering the expanded version Persona 5 Royal is on its way out soon as well. You can cheaply take in the first game and then switch over to the new version to see what it's all about.
Middle-earth: Shadow of War and Hollow Knight are excellent titles as well. All three games will be available to stream and download through February 4, 2020. You'll want to get cracking if you want to try them all.
Right now, PlayStation Now has a seven-day free trial you can use with PlayStation 4 and PC. If you've been eyeing Persona 5 for some time, this is a foolproof way to see if it's in your wheelhouse or not.
Are you ready to pounce on PS Now? Let us know in the comments below!