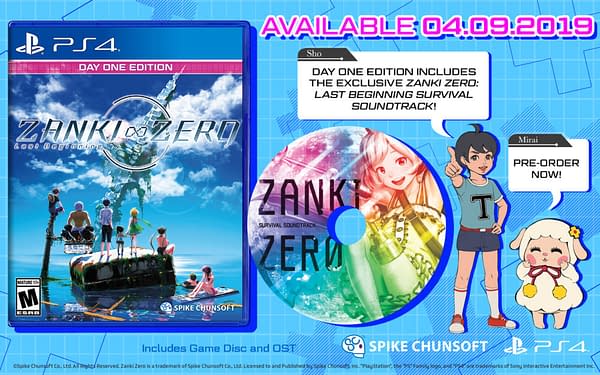 Spike Chunsoft has unveiled the pre-order bonuses for Zanki Zero: The Last Beginning at GDC this morning. The big pre-order bonus for picking up the story-driven JRPG is a copy of the game's original soundtrack alongside the Day One Edition of the game.
Zanki Zero includes full 3D digital graphics, 2D cutscenes, and 3D art for the character dialogue screens. The various different graphic styles combine to create a deep
The combat and exploration aspects of the game are in real-time, so it isn't a turn-based JRPG.
There are five different difficulty levels, though the first difficulty is much easier than it was for the initial Japanese release of the game. The first rank of difficulty has almost no enemy encounters, and basically just lets you play through the story.
The game's most surprising mechanic, however, is the Shigabane system which allows you to revive the 8-playable characters as clones once they die. Because they will die. As the game's a JRPG with an aspect of real-time survival, the characters age over time. Each age bracket (child, adult, middle-aged, eldery) has its benefits and drawbacks in combat, though being an adult is generally the best option all-around.
Zanki Zero is set to release on April 9, 2019.
Enjoyed this article? Share it!