PUBG to Get '70s and '80s Fashion in Tomorrow's New Cosmetic Crates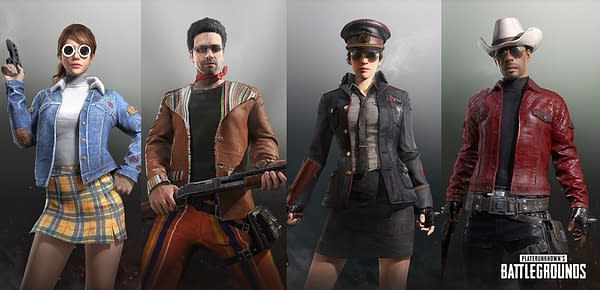 Bluehole has revealed two new cosmetics crates for PlayerUnkown's Battlegrounds. PUBG is getting '70s and '80s-inspired outfits in the new crates, which will go live on February 22nd. You can see some of the retro-inspired looks above, and wow, did Bluehole dig deep for these. There's throwback style and then there's actual cultural artifacts, and these outfits lean pretty heavily toward the latter.
The new crates, called Fever and Militia, were announced today. The Fever crate's retro fashion items can be unlocked with Early Bird keys and purchased with BP.
The Militia crate contains "the Erangel resistance force outfit and Miramar frontiersman outfit," and is dropped randomly. And what's more, the Militia crate is free.
As with the Gamesom Invitational Crate, it's possible to get the entire set of outfits in the Fever crate — if you're lucky.
The crates are live on the test server now, and will be available in-game from February 22nd. Of course, items gained on the test server will not carry over to your live account.
Perhaps even more surprising than the outfits themselves is the fact that these crates made it past the current delay on new PC content. Because cheaters have been plaguing PUBG, the dev team has delayed the release of major features and updates in favor of curbing bad behavior. With the new cosmetics going live, we might see the massive waves of cheat bans die down a bit.